Press regulation: Call to detail royal charter deal's impact on Scotland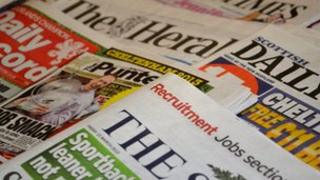 The Scottish government has asked Westminster to clarify the Scottish impact of plans for press regulation.
An agreement has been struck to set up an independent regulator in England and Wales using a royal charter, but views vary on underpinning by law.
In Scotland, the McCluskey Report on the Leveson Inquiry concluded a voluntary code was unlikely to work.
First Minister Alex Salmond said cross-party talks would continue before reporting to parliament after Easter.
The royal charter on regulating the press would state that it cannot be amended without a two-thirds majority of the Westminster Parliament.
Parties have differed in their interpretation of whether this deal involves a new law but Prime Minister David Cameron and Culture Secretary Maria Miller both said there was no statutory underpinning.
Lord McCluskey had been invited to chair a committee by Mr Salmond after last year's Leveson Report into phone hacking and press standards. Press regulation is a power devolved to the Scottish Parliament and Lord McCluskey produced his findings last Friday.
The former high court judge and solicitor general called for statutory controls underpinned by law.
His report recommended the creation of "an independent, non-statutory, regulatory body of a character to be proposed by the press", alongside an independent body "with responsibility for ensuring that the independent regulatory body complies at all times with the Leveson principles".
The regulator could have the power to censure newspapers, magazines and websites, including "gossip" sites, while the expert group said further regulation of social media may also be required.
The report's findings were criticised by the other major parties at Holyrood, who described the proposals as "draconian".
After talks at Westminster stalled last week a deal was brokered on regulating the press using a royal charter.
Reacting to the move, Mr Salmond said it was right that we consider the implications for Scotland.
'Have doubts'
He said: "We have sought clarification from the UK government that they have properly considered Scottish responsibilities and I have invited them to Scotland to discuss their approach with the leaders of all parties.
"It has always been the intention of the all-party group to hear what the UK government had to say on Leveson once they had agreed a clear position, and whilst there is still some disagreement over whether today's royal charter will have statutory underpinning, now is the right time for the UK to discuss this approach with parties in the Scottish Parliament.
"Neither Lord Justice Leveson nor Lord McCluskey considered a royal charter. We will now take the time to consider the royal charter in detail and continue with cross party discussions before reporting back to parliament after Easter."
The prime minister told MPs that Ms Miller would be willing to take part in talks with Scottish politicians.
Scottish Conservative leader Ruth Davidson said it was clear Mr Salmond was beginning to "have his doubts" about the the McCluskey report.
"There appears to be a workable solution on the table at Westminster, and it is clear that the UK-wide approach would work best," she added.