Charity egg goes missing from Glasgow city centre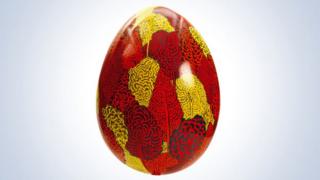 A decorated fibreglass Easter egg, said to be worth £10,000, has been stolen from Buchanan Street in Glasgow city centre.
The 2ft-high egg was one of 100 placed around the city by charity Action for Children, as part of its Big Egg Hunt.
Many of the eggs feature unique designs from leading artists.
The charity said Strathclyde Police had joined the search for the egg, which has a design by Matthew Dent, entitled A Thousand Forests.
Charity fundraising director Andrew Harris said: "We appeal to whoever poached our egg to return it to us."
Two eggs went missing when the Big Egg Hunt was held for the first time, in London, last year, but all were returned.
Glasgow's missing egg, which features a red and yellow tree design, was taken from Buchanan Street in the early hours of Friday morning and organisers hope it will also be retrieved.
The giant eggs feature some of the UK's best loved children's characters, such as Moshi Monsters, Peppa Pig and SpongeBob SquarePants.
Among those adding their own designs include author, painter and rock singer-songwriter Billy Childish, film-maker and photographer Sam Taylor-Johnson and artist Annie Kevans.
The remaining eggs can be found at St Enoch Square, outside Buchanan Galleries and in some of the city's best-loved shops and museums.
Action for Children runs 75 services across Scotland, working with the area's most vulnerable children, young people and families.
The Lindt Big Egg Hunt began in London on 12 February before visiting Birmingham, Liverpool and Manchester then Glasgow.
The eggs will travel back to Covent Garden in time for Easter.