Baroness Kennedy says she feels 'compassion' for Cardinal O'Brien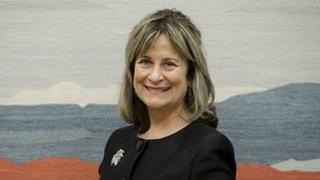 One of Scotland's leading scholars and ethicists has said she feels "compassion" for Cardinal Keith O'Brien following his resignation.
At the launch of Catholic Scholars Declaration on Authority in the Church, Baroness Helena Kennedy said she felt "sad for him and for his victims".
The group is lobbying for more openness in the Roman Catholic Church.
Cardinal O'Brien resigned as an archbishop of St Andrews and Edinburgh amid claims of inappropriate conduct.
At the weekend Cardinal O'Brien admitted that his sexual conduct had "fallen beneath the standards" expected of him and asked forgiveness of those he had offended.
Labour peer Lady Kennedy, who is also a QC, was brought up a Catholic and went on to chair Human Genetics Commission, which advises on ethical, social, and legal issues arising from developments in genetic science.
She said: "I feel very sad for Cardinal O'Brien because here was a man who quite clearly had wanted to have a sexual life and felt that it was a failing for him to want to have a sexual life and that he was going against his commitment to celibacy.
"It is terrible to torture people by expecting that of them and I just feel huge compassion for him. I do not like the idea that there might be an issue of being predatory but I do not want to make a judgment on that.
"But he himself has said that he was involved in sexual activity and I feel very sad that that was something that he had to in some way bury, then give expression to - then feel shame and guilt and presumably is absolutely covered with guilt now.
"I feel very sad for him and for his victims."
The group of Catholic scholars from around the world is pushing for the new Pontiff, who will be appointed this month, to embrace a more open, accountable and democratic approach to the running of the church.
'Hypocrisy charges'
That call for greater liberalisation of the Catholic Church was echoed by the Equality Network, that has been a been fierce critic of the hierarchy in Scotland's attitude to same-sex marriage.
Director of the Equality Network Tim Hopkins said: "Concerns have rightly been raised about the priority the Church places on sexual morality in particular, and the tone with which it speaks, but the focus needs to be right too.
"Why does the Church put so much time and money into opposing loving same-sex couples getting a marriage certificate, instead of campaigning on issues of abuse?
"Until the Church shows that it understands that consent versus abuse are what matters most in relationships, not sexual orientation, it will struggle to regain its credibility and moral authority."
Mr Hopkins continued: "We have heard regret from the cardinal about sexual conduct, and concern from the Church about well-deserved charges of hypocrisy.
"But we have not yet heard clearly enough that the Church understands that the real problem here was not breaching vows of celibacy, or that the sexual acts were same-sex, but that they were an abuse of a position of power."
Cardinal O'Brien was Britain's most senior Roman Catholic cleric until he stood down as the Archbishop of St Andrews and Edinburgh last month.
He resigned after three priests and a former priest alleged improper behaviour dating back to the 1980s.