Scottish independence: Luxembourg warns against 'going separate ways'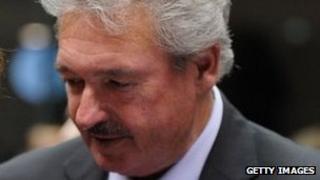 The government of Luxembourg has warned against Scotland becoming an independent country.
Foreign minister Jean Asselborn said the current economic crisis in Europe was a time for solidarity, rather than for "going separate ways".
Luxembourg is the only country outside the UK to have publicly expressed a view for or against independence.
Scottish Deputy First Minister Nicola Sturgeon said Mr Asselborn was "entitled to his view".
She added that the 2014 independence referendum was a matter for Scotland.
The Scottish government aspires to full membership of the EU and does not support the UK government's plans for an in/out referendum on Europe.
Last month, the US said it would remain neutral in the debate.
Most EU countries take a similar line, limiting any comment to the impact independence would have on Scotland's relationship with the EU.
Luxembourg's foreign minister has decided not to exercise the same diplomatic restraint.
Mr Asselborn acknowledges that Scotland's future will be decided by Scottish voters.
However, in a statement to the BBC, he said: "As we are all facing serious economic and social challenges, this is a time for solidarity between Member States of the EU and within Member States, rather than for going separate ways.
"This being said, Scotland's constitutional future is a matter to be decided by the people of Scotland.
"But its future within the EU is a matter for the whole EU and can thus only be determined with the agreement of all Member States."
'Internationalist outlook'
Responding to the comments, Ms Sturgeon said she did not accept that Scottish independence equated to separatism.
She said: "We want Scotland to be independent but want Scotland to be internationalist in its outlook and that's why, unlike the UK government, we want Scotland to be a constructive partner in the EU, making sure that we are working with other countries to get through these tough times and to maximise the benefit of the single market, for example."
The deputy first minister added: "The foreign minister of Luxembourg is entitled to his view.
"As he rightly says, the decision on whether or not Scotland will be independent is for the Scottish people to take in the referendum.
"Luxembourg, I think, demonstrates what can be achieved by a small country, in charge of its own affairs and making sure it puts its own wealth to work for the people of that country."