Catholic Church has suffered blow to credibility, suggests Archbishop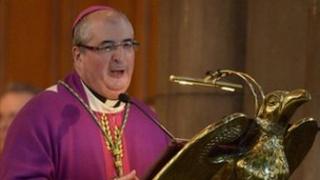 The credibility and moral authority of the Catholic Church in Scotland has been damaged, according to the man who has replaced Cardinal Keith O'Brien.
Archbishop Philip Tartaglia took over temporarily as administrator of the Archdiocese of Edinburgh and St Andrews after the cardinal's resignation.
The cardinal has since apologised for his sexual conduct.
Archbishop Tartaglia told an evening mass that: "This is a sad moment for the church in our country."
Cardinal O'Brien was Britain's most senior Roman Catholic cleric until he stood down last Monday after three priests and a former priest had made allegations of "improper behaviour" against him dating back to the 80s.
Initially, he said he would contest the allegations but on Sunday issued an apology, saying that his behaviour had "fallen beneath the standards expected of me".
Archbishop Tartaglia chose to tackle the revelations at a pre-scheduled Lent Station Mass at St Andrew's Cathedral in Glasgow.
"The events around Cardinal O'Brien, his resignation, his statement of yesterday, have left us all very sad for everyone involved and for the Church," he said.
"Many reproaches have been aimed at the Church and at individuals over this matter.
"The most stinging charge which has been levelled against us in this matter is hypocrisy - and for obvious reasons.
"I think there is little doubt that the credibility and moral authority of the Catholic Church in Scotland has been dealt a serious blow and we will need to come to terms with that."
Cardinal O'Brien's resignation meant he did not travel to Rome as his counterparts from around the world gathered in Rome on Monday to begin the process of electing the next Pope.
Archbishop Tartaglia, who said he would do his best to fulfil the cardinal's role until a new archbishop was appointed, thought the process offered a chance for the church to regroup.
"So what can I say to offer us hope?" the Archbishop of Glasgow asked in his sermon. "Well, in the first place, a new Pope will be elected in the coming weeks and that will be certainly be a wonderful moment of hope and joy for the Church throughout the world."
'Sad time will pass'
Archbishop Tartaglia thought that, "since Pope Benedict announced his resignation and since he stepped down", there had been a sense of loss in the Catholic Church.
"And this sad time for the Catholic Church in Scotland will also pass," he said. "We will endure it with prayer and patience and hope.
"We will not forget for a long time, but we will heal and we will carry on.
"We will draw what conclusions and lessons we can from it and, if anything, we will learn to trust even more fully in Jesus Christ who is alone the Lord of the Church.
"As for the Church's mission in our country, yes, our credibility and moral authority have been undermined.
"It will take time, perhaps a long time, to recover these intangible but important realities, but we cannot be defeatist.
"The answer to this sad episode is not to throw in the towel. We need, rather, to renew our faithfulness to Jesus Christ and to go about our business humbly."