Cardinal Keith O'Brien faces Vatican sexual conduct inquiry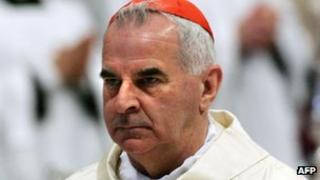 Cardinal Keith O'Brien is expected to face a Vatican inquiry after admitting his sexual conduct had at times "fallen beneath the standards expected of me".
The inquiry into the former head of the Catholic Church in Scotland is not likely to begin until after a new Pope is chosen - a process starting later.
On Sunday, the cardinal apologised to the Church and the people of Scotland.
He resigned after three priests and a former priest alleged improper behaviour dating back to the 1980s.
Cardinal O'Brien was Britain's most senior Roman Catholic cleric until he stood down as the Archbishop of St Andrews and Edinburgh last month.
Cardinal Cormac Murphy-O'Connor, a former Archbishop of Westminster, told the BBC the Church had not lost its moral authority, but that it was "composed of saints and sinners".
He insisted the Church "sometimes" takes responsibility for what happens, adding: "Sometimes it is just the weakness of individuals and the wrong that they do.
"To say that this is all in the Church I just don't think it is true," he told BBC Radio 4's Today programme.
"The vast majority of priests and bishops are good and faithful men who are faithful to what they do, to what they preach and their way of life.
"To say that this has sort of infected everywhere is just not true," he said.
'Ask forgiveness'
Cardinal O'Brien's resignation means Britain will have no representative at the impending conclave, when cardinals gather to elect a new Pope.
The BBC's Allan Little in Rome said before the cardinal's confession of sexual misconduct, the clerics were unwilling to believe the allegations, preferring to blame a single rogue priest or a liberal conspiracy against the Church.
Cardinal O'Brien's resignation took place after the former priest and three current priests from the diocese of St Andrews and Edinburgh complained to the Pope's representative to Britain, Archbishop Antonio Mennini, in early February about what they alleged had been inappropriate behaviour towards them in the 1980s.
In his statement, issued through the Roman Catholic Church in Scotland, Cardinal O'Brien said: "In recent days, certain allegations which have been made against me have become public. Initially, their anonymous and non-specific nature led me to contest them.
"However, I wish to take this opportunity to admit that there have been times that my sexual conduct has fallen below the standards expected of me as a priest, archbishop and cardinal.
"To those I have offended, I apologise and ask forgiveness. To the Catholic Church and people of Scotland, I also apologise.
"I will now spend the rest of my life in retirement. I will play no further part in the public life of the Catholic Church in Scotland."
'Saints and sinners'
Catherine Deveney, the journalist who first broke the story in the Observer, said she had spoken to the four victims and they were relieved they had been vindicated.
"These are not men who are trying to bring down the Church, they have given their lives to the Church. Forgiveness and redemption are their kind of language," she said.
When the story first broke last month, Cardinal O'Brien contested the "anonymous and non-specific" allegations.
But Ms Deveney said the Church knew who the complainants were. She also said she had put four very specific allegations to Cardinal O'Brien and followed them up with the question "Is it true that the cardinal has broken his vow of celibacy?".
"One of the big difficulties for the Church is the instinct to cover up and protect itself," she said. "This says to individuals who have been wronged - you do not matter as much as the public face of our institution."
Archbishop of Glasgow Philip Tartaglia told worshippers at Mass on Monday evening: "I think there is little doubt that the credibility and moral authority of the Catholic Church in Scotland has been dealt a serious blow, and we will need to come to terms with that," he said.
Cardinal O'Brien, who was born in Ballycastle, Co Antrim, had been the Archbishop of St Andrews and Edinburgh since 1985 and was due to retire later this month when he turned 75.
He has been an outspoken opponent of plans to legalise same-sex marriage in Scotland and was named "bigot of the year" by gay rights charity Stonewall last year.
Responding to Cardinal O'Brien's admission, Stonewall chief executive Ben Summerskill said: "We note with sadness that the cardinal didn't find it in him to apologise to gay people, their families and friends for the harm his vicious and cruel language caused."
In an interview with BBC Scotland shortly before the allegations against him were made public, the cardinal said he believed priests should be able to marry and have children if they wished.
He said it was clear many priests struggled to cope with celibacy.