Whisky industry concern over proposed water limit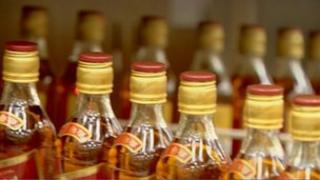 Limiting the amount of water available for use by whisky distilleries could harm long-term plans, according to industry representatives.
The limit, agreed in legislation passed at the Scottish Parliament, prevents firms from taking more than ten million litres of water each day.
The Scotch Whisky Association said not being exempt could limit its expansion.
Deputy First Minister Nicola Sturgeon has promised discussions over the issue.
The Water Resources (Scotland) Bill includes plans to extend Scottish Water's functions, to enable water shortage orders to be made and to protect the public sewerage network from harm.
Scotch Whisky Association chief executive Gavin Hewitt said: "We are disappointed that the Scottish government did not include the Scotch Whisky industry among the list of exempted activities when drafting the Bill, given its economic importance to Scotland.
'Long-term concerns'
"Even more unfortunately, we were not consulted on the issue.
"Although no distillery currently uses the proposed daily limit for water extraction, the industry does have long-term concerns about how the legislation could be used in the future."
The concern was also raised by Conservatives who called for assurances during the passage of the Water Resources Bill in Parliament.
Highlands and Islands Tory MSP Mary Scanlon said: "The distilling process sees two-thirds of the water abstracted returned to source within two to 12 hours of removal.
"So I would like the Scottish government to consider the measurement being the water consumed rather than the water abstracted, which would overcome the concerns of the industry."
Responding to her concern, Ms Sturgeon said: "We will continue to discuss with the whisky industry and other stakeholders those details as we develop regulations.
"I will reflect on the point that Mary Scanlon has made."