Heart monitors for footballers will be investigated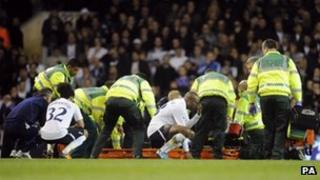 The world body that governs the rules of football has agreed to investigate the possibility of allowing players to wear heart monitors during games.
It follows the case of Bolton player Fabrice Muamba, who suffered a cardiac arrest on the pitch last year and was forced to retire from the game.
The International Football Association Board (IFAB) agreed to form a group to review the use of heart monitors.
It followed a proposal from the Scottish Football Association (SFA).
The IFAB consultation group will be comprised of medics, coaches, former players and IFAB technical sub-committee members.
Its annual meeting, held in Edinburgh under the chairmanship of SFA president Campbell Ogilvie, had been asked to approve trials of an electronic chip in players' shirts that could potentially warn of medical problems.
Currently banned
The data from the chip would be fed back to a laptop computer, which could be monitored by medical staff and coaches.
The SFA proposal suggests the chips could monitor a player's heart performance, the distance they have run and changes in their body function.
Electronic communication between players and staff is currently banned, but some clubs already use GPS tracking devices and body sensors during training to assess performance.
The SFA proposal would extend their use to competitive fixtures.
SFA chief executive Stuart Regan said: "I think any information provided about a player's heart rate in a live match situation can only be useful.
"We don't know if a system like this could have prevented a Fabrice Muamba-type situation, but certainly providing coaches and doctors with real-time information we believe is a significant step forward."
'Interfering with play'
The IFAB, which consists of the FAs of England, Northern Ireland, Scotland and Wales as well as Fifa, also agreed to alter the wording of the offside rule, further discussed goal-line technology and changed the governing body's own structure in an attempt to improve decision-making and transparency.
It was agreed to change the wording that explains when a player is ruled to be "interfering with play" during an offside decision to make it less open to interpretation and more precise.
However, alterations to the law governing drop-balls was postponed for further consultation.
The IFAB last summer approved the introduction of goal-line technology, which will be used for the 2014 World Cup, and its annual meeting agreed that "the decision whether to allow replays of goal-line incidents for broadcast purposes and/or on stadium giant-screens, is to be made independently by individual competition organisers".
It would also be left to each competition organiser to decide whether it wishes to use the technology in individual matches, or all matches of a tournament.
In looking to tackle criticism of its own governance and consultation, the IFAB agreed to set up two new advisory panels: a Technical Panel - comprising refereeing experts from across the globe - and a Football Panel, composed of approximately 20 former players and coaches, current coaches, FIFAPro and Confederation technical directors.