Lockerbie police in Libya visit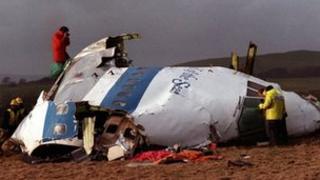 Scottish police and prosecutors have visited Libya to discuss the investigation into the 1988 Lockerbie bombing.
The four-person team from the Crown Office and Dumfries and Galloway Constabulary was accompanied by an FBI delegation from Washington.
It met senior officials from the Libyan government in Tripoli on Monday.
The trip had been announced by the prime minister in January.
Libyan intelligence officer Abdelbaset al-Megrahi is the only person to have been convicted of the bombing of Pan Am flight 103 over Scotland in which 270 people were killed.
Megrahi, who was released from jail by the Scottish government on compassionate grounds after being diagnosed with prostate cancer, died last year still protesting his innocence.
Since the fall of the Gaddafi regime in 2011, British investigators have been working to establish if there are other individuals in Libya who could be brought to trial for their involvement in the attack.
Lord Advocate Frank Mulholland QC said the discussions had been "positive" and it was hoped there would be further progress in the investigation as a result.
The Libyan authorities had raised the issue of compensation, he added, but the delegation had told them that the investigation was focused on identifying others involved in the bombing.
Mr Mulholland added: "Visas were granted for Scottish police and prosecutors to travel to Tripoli to meet with their counterparts in progressing the investigation into the Lockerbie bombing.
"Senior officials from Crown Office, Dumfries and Galloway Police and the FBI attended a series of meetings in Tripoli with ministers and senior officials from the Libyan government to discuss the ongoing investigation.
"The purpose of the meetings was to discuss US and Scottish requests for co-operation in the ongoing investigation and to agree how these would be progressed.
"As the investigation remains live, and in order to preserve the integrity of that investigation, it would not be appropriate to offer further comment."