Pope appoints temporary replacement to Cardinal Keith O'Brien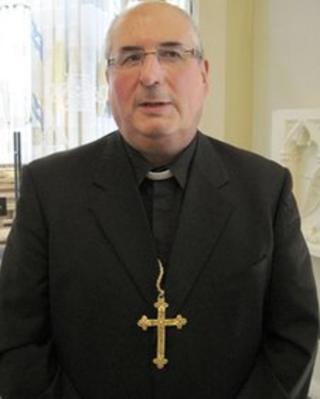 The Archbishop of Glasgow, Philip Tartaglia, has been put in charge of the Roman Catholic Archdiocese of St Andrews and Edinburgh.
The move comes after the resignation of Cardinal Keith O'Brien from the post.
He stepped down on Monday amid allegations he behaved "inappropriately" to three serving priests and a former priest.
The church said Archbishop Tartaglia would lead the east coast diocese until a permanent appointment was made.
He has been appointed apostolic administrator of the archdiocese with immediate effect.
Archbishop Tartaglia said: "These are painful and distressing times for the archdiocese. I also feel pained and distressed.
"With the grace of God, I will do my very best to oversee and govern the archdiocese until the appointment of a new archbishop. I ask for your prayers."
Cardinal O'Brien, who was Britain's most senior Catholic, resigned as archbishop after he was accused of inappropriate behaviour towards priests in the 1980s.
A Scottish Catholic Media Office spokesman said Cardinal O'Brien contested the allegations against him, which were "anonymous and non specific".
In the allegations, a former priest claimed Cardinal O'Brien made an inappropriate approach to him in 1980, after night prayers, when he was a seminarian at St Andrew's College, Drygrange.
A second statement from another complainant said he was living in a parish when he was visited by Cardinal O'Brien and inappropriate contact took place between them.
A third complainant alleged dealing with what he described as "unwanted behaviour" by the cardinal in the 1980s after some late-night drinking.
The fourth complainant claimed the cardinal used night prayers as an excuse for inappropriate contact.
In a statement as he resigned, the cardinal thanked God "for any good I have been able to do" and apologised "to all whom I have offended for any failures".
He had been due to take part in the election of Pope Benedict's successor next month but said in a statement he would be resigning with immediate effect and would not participate in the vote.
There will now be no British cardinal taking part in the conclave to elect the new Pope.
Eighty-year-old Cardinal Murphy-O'Connor, the retired Archbishop of Westminster, plans to attend, but he is not eligible to vote because of his age.
Archbishop Tartaglia is not a cardinal and therefore cannot vote in the conclave.
Cardinal O'Brien had been due to retire when he reached 75 next month.