Cardinal Keith O'Brien's decision to withdraw from Pope vote 'his own'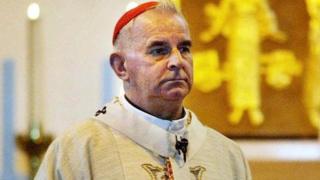 Cardinal Keith O'Brien's decision not to take part in the election of a new Pope was his own, a spokesman for the Roman Catholic Church has insisted.
The cardinal also resigned as archbishop of St Andrews and Edinburgh following claims of inappropriate behaviour towards priests in the 1980s.
Archdiocese of Glasgow spokesman Ronnie Convery said Cardinal O'Brien had not come under pressure from the Vatican.
"It was very much his own decision," Mr Convery told BBC Scotland.
Announcing his decision on Monday, the cardinal had apologised to "all whom I have offended" for any "failures" during his ministry.
While admitting that he was not with Cardinal O'Brien when he wrote his speech, the Archdiocese of Glasgow's communications director suggested: "I think that's a generic statement which is often made when people in public life leave public life, so I don't think we can read anything into that.
"I don't think it's any kind of direct response to the allegations that were made in the Observer at the weekend."
The newspaper revealed that three priests and one former priest from the diocese of St Andrews and Edinburgh complained to the Pope's representative to Britain, nuncio Antonio Mennini, in the week before 11 February over allegations dating back to the 1980s.
Cardinal O'Brien said he was contesting the claims.
Abuse claims
On BBC Radio Scotland's Call Kaye programme, Mr Convery was asked whether there was a difference between that and denying the charges.
"I am not a lawyer, so you would have to ask a lawyer for that - he's had his lawyers with him, and the word he used is 'contests', so we just have to accept that," he replied.
Los Angeles Cardinal Roger Mahony has made it clear he plans to attend the upcoming conclave to elect a new pope despite criticism of his handling of claims of sexual abuse by priests in the 1980s and 1990s.
Cardinal O'Brien decided against travelling to Rome and Mr Convery said: "I have to say, with my media hat on, that I think it was the right decision.
"I think that, if he had gone, the story would have been dragged right to the heart of the conclave.
"It would have become a sideshow to the conclave, it would have risked disrupting the conclave in many ways, so I think it was a wise move all round for him to voluntarily renounce his right to take part in that.
"This story would just run and run right up to and during, and perhaps after, the conclave.
"By stepping back, he allows the conclave to go on and to run its course in peace."