Senior moment in the workplace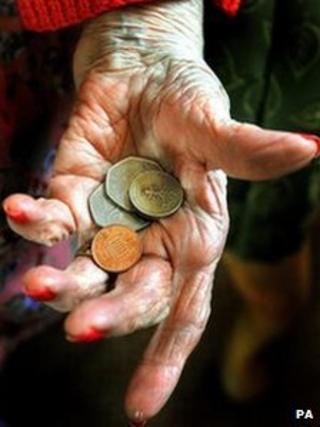 The latest unemployment figures look good. If you're Spanish or Greek, they look fantastic. The latest employment figures don't. Not for Scotland anyway.
As I reported earlier, Scotland did badly at creating new jobs, and its positive glow around unemployment is because the size of the labour market is falling.
The number of people who are economically inactive fell by nearly 300,000 across the UK, yet in Scotland, it rose by 27,000.
The figures don't tell us why the Scottish figures went up, but the UK figures show where the falls came from.
The number of people who are out of the workforce due to long-term sickness fell by 87,000 to just over two million during last year - a drop of 4%.
The number saying they're unable to work due to temporary illness rose by 16% to nearly 200,000.
Discouraged
Of more than three million students, 2.2 million are not economically active, and 2.3 million people are not in the labour market because they're looking after family or the home.
The number of those who aren't looking for work because they're classified as "discouraged" has fallen over the past two years from 81,000 to 66,000.
And the number who have retired before turning 65 is down from 1.53 million to 1.38 million - a fall of 10% during 2012.
Keep ageing and carry on
The flipside of that is shown by the number of people aged 65 and over who are in the workforce.
In only one year, there's been a rise of 95,000, or 11%. Put another way, we're getting very close to one million working pensioners. Of that age group, 9.5% are counted as economically active.
The number of working pensioner men has risen 12%, therefore faster than women.
Why the growth in older workers? One reason is surely that more senior citizens are allowed to. The law has changed, making it impossible for employers to force retirement at 65.
Another reason may be that buying a pension annuity with the workplace pension fund built up over past decades is looking particularly unattractive at current rates. There's an incentive to keep working until returns improve, if your fund allows it.
Pension pessimism
And it may be that concern about older age finances are weighing heavily, and particularly on British minds.
A report out today from HSBC takes a global approach.
It finds older people in emerging, high-growth economies are much more positive about their retirement.
It also suggests those coming up to retirement now feel falling household income will leave them worse off than their parents.
But the international survey indicates that a third of people believe work will play a role in enjoying a happy retirement. Some 9% believe that paid employment will provide their main source of "retirement" income.
And while many in their 50s are facing up to an underfunded retired future, one important finding is that younger women are taking pension funding much more seriously than older women of working age.
But looking at attitudes to retirement, it's striking how the British are much more attuned to working into their older years than in other developed economies.
The biggest upside of getting older is "freedom", followed by "happiness". The biggest downside is "financial hardship". Of British people questioned for the HSBC survey, 38% said financial hardship is a feature of getting older.
More than a fifth of British people believe they will be worse off than their parents in retirement. Only the US and France register higher rates of pessimism on that question, and by a wide margin.
The British have the most pessimistic attitude to the generosity of company pensions, and across a mixed range of 17 nations, only Argentina has a lower expectation that the state pension will hold up in value.
There may be something positive about Britain's pensioner pessimism. If younger women are among those taking retirement planning more seriously, it could be because the message is getting through that there's a big demographic change on the way.
You can also comment or follow Douglas Fraser on Twitter: @BBCDouglsFraser