'More work needed' on breastfeeding in Scotland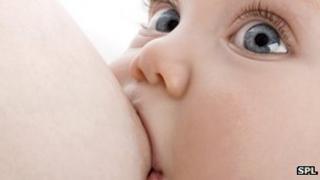 Extra work is needed to encourage more women to breastfeed, according to the Scottish government.
There has been a "significant decrease" in the number of women breastfeeding to six weeks, the latest Growing Up in Scotland (GUS) study suggested.
Minister for Children and Young People Aileen Campbell said: "We need to do more to make sure people feel comfortable."
The report looked at a representative sample of 6,000 children.
The headline rate of those who breastfed, although not necessarily exclusively, for six weeks or more remained static at 42% between 2010/11 and the previous study in 2005/6. But the GUS report said this figure did not reflect socio-demographic factors in the sample closely linked to the uptake of breastfeeding.
Health values
Research has shown that a mother is more likely to breastfeed if they are educated to degree level, live with their partner, or come from an ethnic minority background where it is more common. Mothers who live in urban areas, especially areas of high deprivation, are less likely to breastfeed.
The report said: "Breastfeeding rates (initiation and continuation to six weeks/six months) are strongly associated with socio-demographic factors.
"After adjusting for these relevant socio-economic factors, there was a statistically significant decrease."
Reacting to the report, Ms Campbell said: "This shows there is more work needing to be done on this. We know the health values attached to breastfeeding, the important health benefits that children can get from breastfeeding, so it shows we need to put more work in."
The headline rate of breastfeeding remaining static was a positive sign, according to Ms Campbell.
She told BBC Scotland: "That in itself is a good thing, that there are people who are realising the importance of breastfeeding, so we need to do more to ensure that people feel comfortable, to make sure the message that we give to people doesn't allow parents to feel bad about themselves, but certainly give a good message about the importance of breastfeeding, to make sure that those parents can go on and those numbers can increase."
The World Health Organization recommends all children are exclusively breastfed up to six months, and breastfeeding alongside other appropriate foods continues up to and beyond two years.
The Scottish government target for women non-exclusively breastfeeding is 50%.
Alcohol 'progression'
There was positive news in the survey, which also showed an increase in the number of women are avoiding alcohol during pregnancy. That number rose from 74% avoiding alcohol in 2005/6 to 80% in 20011/12.
Ms Campbell said: "There are a number of positive results from this study, that being one of them. 80% of women not drinking at all during pregnancy is good news because we know of the negative health consequences. It shows us there is progression in that area.
"It's good to know that people are heeding advice, that polices are working in this area, because of the damage that can be done during pregnancy."
The numbers of women smoking during pregnancy was 25% in the previous survey and 27% in the latest GUS survey, but a further 9% said they gave up once they discovered they were pregnant. That was a response option not available in the previous survey.
The GUS report was commissioned by the Scottish government and carried out by ScotCen Social Research.
Inequalities remain
Lead author of report and senior research director at ScotCen Paul Bradshaw said: "There is clear evidence in this report that parents are listening to healthcare advice coming from the Scottish government.
"Mothers are increasingly likely to completely cut out alcohol during pregnancy and to follow guidelines on the introduction of solid food to young children. There are also signs that employers are more open to family friendly policies, such as flexible working.
"While progress has been made in some areas, in others there is still some way to go. The findings suggest that there has been little change in breastfeeding rates.
"There also remain significant inequalities in health behaviours and access to information in relation to pregnancy and birth, and in child health outcomes such as birth weight and general health at 10 months."
Anne Houston, chief executive of Children 1st, said: "Many of the findings of the GUS report are hugely encouraging, such as more mothers avoiding alcohol in pregnancy and higher levels of satisfaction with health visitors.
"The findings also underline the importance of additional investment in children's early years."
The GUS report interviewed about 6,000 primary carers of children, representative of those born between March 2010 and February 2011, around the time their children were aged 10 months.