Kessock Bridge roadworks: Drivers praised but 27 caught speeding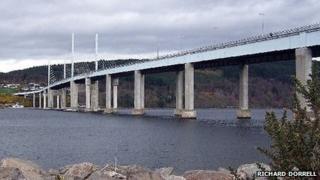 Motorists have been praised by police after the first week of roadworks at Kessock Bridge, Inverness, despite 27 being charged with speeding.
In addition, two were given tickets for using the HGV/bus lane since Monday.
Insp Neil Lumsden said: "I would like to thank motorists for their patience whilst the bridge works continue.
"It is pleasing to note that motorists are planning their journeys in advance and giving themselves extra time to reach their destination."
The £13m revamp of the A9 crossing, which connects the city and the Black Isle, will result in five months of roadworks, with further work next February until June.
New slip roads, a bus lane, extra train capacity and appeals for commuters to use public transport and to car share were put in place in an attempt to limit congestion.
Route warning
"At peak commuting times, delays are inevitable," said Insp Neil Lumsden, head of road policing at Northern Constabulary.
"Motorists travelling across the Kessock Bridge since Monday 11 February will now be aware that a range of traffic management measures are in place on the approach to and on the bridge.
"These measures, which include reduced speed limits and a dedicated HGV/Bus lane, are necessary to protect the workforce involved in the bridge works, to assist the flow of traffic at peak times and to ensure as much as possible the free flow of public transport and the haulage industry."
However, Northern Constabulary have warned against the use of an alternative route being used by some drivers.
"During the morning commute, motorists are also using the Drumsmittal Road, North Kessock, in an attempt to avoid queues on the A9," a police spokesman stated.
"This road should only be used for access to destinations on the Drumsmittal Road and cannot be used as access to the A9.
"Enforcement of the restrictions in place will continue to protect those working on the bridge and to ensure traffic flows as freely as possible."