'Hundreds more' foster families needed in Scotland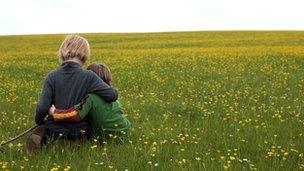 Scotland is facing a shortfall of at least 850 new foster families in the year ahead, a charity has warned.
The Fostering Network said that despite an increase in fostering households in the past year, the number of children in care was continuing to rise.
On any one day, there are estimated to be more than 5,000 children living with foster families in Scotland.
But the charity said too many children would not get the care they needed without more families coming forward.
Some will live in children's homes when a foster family would be the best option for them.
Others will end up living with a foster carer a long way from the child's home, school or family.
Sara Lurie, director of the Fostering Network Scotland, said: "In particular we know that fostering services are looking for foster carers to offer homes to teenagers, children with disabilities and sibling groups.
"These children need a stable family life to help them grow and achieve their potential.
"By becoming a foster carer people can help children to have the best possible opportunity for a positive future, to do well at school and be successful in later life."
The network urged anyone interested to contact them or check out their Could You Foster? website.
Related Internet Links
The BBC is not responsible for the content of external sites.