PwC warns oil industry over fracking impact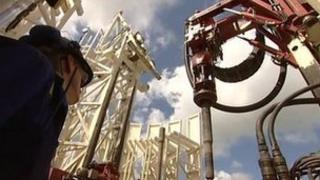 The oil and gas industry in north-east Scotland has been warned it needs to adjust to the challenges and opportunities from "fracking" and other unconventional methods of drilling.
They have already radically re-shaped the North American energy market.
If deployed in other parts of the world, business consultancy Pricewaterhouse Coopers (PwC) said it could depress the price of oil.
It said it could be up to 40% below the level it would otherwise reach by 2035.
The arrival of shale gas exploration in the UK has prompted dismay among campaigners who fear operations could pollute water supplies, cause tremors and lead to damaging development of drilling well sites in the countryside.
Shale oil is exploited in the same way as shale gas, through hydraulic fracturing which uses high-pressure liquid to split rock and extract the fossil fuels.
Unconventional "shale oil" has the potential to reach up to 12% of total oil production in the next 22 years.
Oil prices
PwC said this extra supply could reduce prices by 25% to 40% in 2035 compared to what they would otherwise be.
It based its price forecasts on US government advice that real oil prices could reach $133 per barrel, at today's prices.
That assumes minimal development of shale energy and sharply increasing demand from developing economies.
Europe's benchmark oil price, for Brent crude, is currently about $118 per barrel, while the US shale boom has pinned back its benchmark price to $97.
PwC reckons that more development of shale oil and gas could push down the 2035 oil price to between $83 and $100 per barrel.
Cheaper energy would benefit the UK and global economies, boosting output in 2035 by as much as 3.7%, or up to £800 per person at today's prices.
However lower prices could hit Scotland's offshore oil and gas industry.
PwC has warned that such changes should force companies to reconsider investment plans based on long-term increases in oil prices.
Alastair Geddes, director of PwC's oil and gas team in Aberdeen, said: "Shale oil represents another exciting opportunity for the industry, particularly oilfield services companies.
"However, if we are to become a key international player in this market, a move that could positively impact investment, employment and economic growth across the region and the UK, then we need to grasp the opportunity with both hands.
"We can't afford to be in the slow lane".
He added: "The implications of the growth in shale oil will be felt along the value chain.
"Investment choices based on long-term predictions of a steady increase in real oil prices may need to be reassessed in the upstream, midstream, downstream and oilfield services sectors."
No need to 'play catch-up'
Friends of the Earth Scotland campaigns manager Mary Church was skeptical about the potential to lower the cost of energy.
She said: "Those hoping for an era of cheap gas are going to be sorely disappointed."
Friends of the Earth also pointed to research published by Deutsche Bank which suggested the cost savings seen in the American market would be unlikely to be repeated across Europe.
Ms Church said: "We already know of about five times more coal, oil and gas than it is safe to burn without guaranteeing catastrophic climate change, so the last thing we need to do is to exploit new kinds of fossil fuels.
"Scotland has 25% of Europe's renewable energy potential and a vast wealth of knowledge and experience to realise it.
"Instead of trying to play catch-up on fracking with the USA, the oil and gas industry should use their expertise to help turn Scotland into a world leader in offshore renewables."