Lack of 'joined-up health care' for terminally ill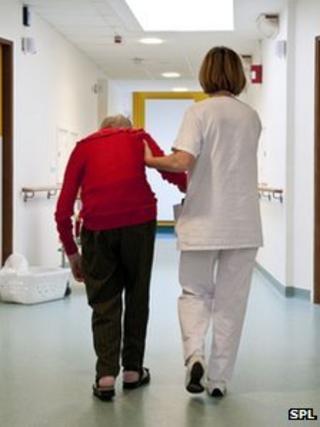 Patients approaching the end of life often do not receive adequate care for their emotional needs, according to a study by Edinburgh University.
Researchers said planning and support for patients suffering some terminal conditions was lacking.
The study also said more patients should discuss how they will be cared for in their final weeks.
The Scottish government launched a national action plan for end of life care in 2008.
Researchers interviewed 57 patients about their experiences of care in the year before they died. They also interviewed medical staff and asked patients' families to track all their dealings with the NHS.
The Edinburgh University team said this lack of planning and support places an unnecessary stress on the patients' families, and may also increase the number of hospital admissions.
It was also complicated by a poor understanding of patients who have multiple conditions, which affects 80% of those with advanced illnesses.
Prof Scott Murray, St Columba's Hospice chair of primary palliative care a Edinburgh University, said while cancer patients had good support networks, that was not the case with other conditions.
He added: "This study shows that patients with a number of terminal illnesses who appeared to be approaching the end of their lives had the most need for coordinated, joined-up health care.
"Yet they were usually the least likely to receive it.
"If patients and doctors felt more able to talk together and discuss their wishes, then health services could be much better coordinated and responsive to patients' choices."
The Scottish government's action plan, called Living and Dying Well, identified the need to support "physical, social, emotional and spiritual needs".
A Scottish government spokesman said: "Our aim is to ensure that palliative and end of life care will be provided for anyone who requires it, regardless of diagnosis and will ensure quality of life for patients, their carers and their families. That is why we welcome this report and are happy to consider its findings."‬