Three rescued after avalanche in Cairngorm mountains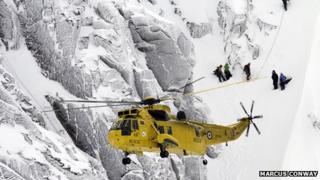 Three people have been taken to Raigmore Hospital by air following an avalanche in the Cairngorm mountains.
None are thought to have sustained serious injuries.
The avalanche was reported to have happened shortly before 11:30 in the Coire an t-Sneachda area of the Cairngorms.
Northern Constabulary said emergency services, who were conducting training in the area, are still responding to the avalanche.
Officers from Northern Constabulary are being assisted by members of Cairngorm Mountain Rescue Team, an RAF rescue helicopter and Strathclyde Police Mountain Rescue Team.
It was the second avalanche in the area in the space of an hour.
Two men had a lucky escape in the morning, when snow gave way beneath them near the Fiacaill Buttress in the Coire an t-Sneachda area.
They did not require help, but the three other climbers were not so fortunate when the second avalanche occurred around 40 minutes later.
They were ascending at around 1000 metres when the avalanche took place, carrying them around 150 metres, although they were not buried at any point.
It not thought that anyone else was caught up in the avalanche.
Details of the casualties' injuries have not yet been revealed and police have yet to say whether the three were male or female.
Conditions in the Cairngorms were described as good winter weather but with a considerable risk of avalanche.
Al Gilmour of Cairngorm Mountain Rescue said: "There was actually a separate avalanche in the area before we got the call out for the later one with three people.
"Two people involved in that walked away completely unscathed so they were lucky.
"The later one involved three men who were carried about 150m over rocks but they were wearing helmets and, from accounts of the rescue personnel on the hill, that probably saved them and they got away with leg injuries, although one of them may have a particularly serious lower leg injury."