Alan Cumming's solo version of Macbeth to play Broadway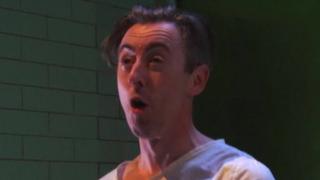 A version of Macbeth in which actor Alan Cumming plays all the roles is to transfer to Broadway.
The show, created for the National Theatre of Scotland, will be staged in New York on a 73-date run from 7 April.
It premiered at Glasgow's Tramway Theatre in June and then at the Lincoln Center Festival in New York.
This will be the second time the National Theatre of Scotland has taken a show to Broadway and the eighth time they have staged a show in New York.
Cumming's version of the William Shakespeare classic re-imagines Macbeth as a patient in a modern psychiatric hospital.
Independent New York producer Ken Davenport is presenting the shows, directed by John Tiffany and Andrew Goldberg, at the Ethel Barrymore Theatre.
Neil Murray, executive producer at the National Theatre of Scotland, said: "We are thrilled that a leading New York commercial producer is taking on our acclaimed production of Macbeth, featuring Alan Cumming's stunning performance.
"We believe that this will be the first time that Shakespeare's Scottish play will have been performed by a Scottish actor and a Scottish company on Broadway."
Tiffany's production of Once, which won 8 Tony Awards last year, is also currently playing on Broadway and opens in London's West End later this year.
Cumming is currently appearing as Eli Gold on CBS' The Good Wife, for which the 48-year-old has received Emmy, SAG and Satellite award nominations.