Actor Richard Wilson call to tackle autism 'frustration'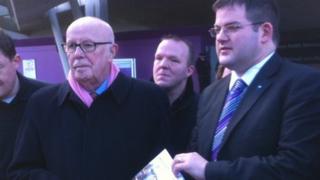 Actor Richard Wilson has called for more to be done to tackle a "palpable frustration" among those with autism that their views are not being heard by organisations meant to help them.
A National Autistic Society (NAS) Scotland report says most people with autism feel they do not have enough support - or a big enough say in it.
Campaigners want more help for those seeking training and jobs.
Mr Wilson has delivered the report to the Scottish Parliament.
The star of the BBC's Merlin, who became an ambassador for the charity last year, said: "People with autism may see the world differently from many of us, but they have strong, valuable opinions on the kind of support needed to access the same opportunities most of us take for granted.
"There is palpable frustration that those organisations meant to help are not listening to what they have to say.
Managerial positions
"The right support at the right time can make the difference between someone experiencing isolation and related mental health problems or leading a fulfilling life and actively contributing to society."
Autism affects how someone communicates, how they relate to others and how they make sense of the world around them.
The new report, entitled Count Us In: It pays to Listen, delivered to SNP MSP Mark McDonald at Holyrood, shows that 90% of such people want more say over their support - and that two-thirds feel they do not have enough of that support.
Seven in 10 adults with autism say they have not had their needs assessed since they turned 18, while 79% think that public understanding of their condition is poor or very poor.
NAS statistics also show that two in every five graduates or postgraduates with autism (43%) never achieve any sort of managerial position.
The publication's authors have produced a series of recommendations for bodies, including the Government and councils, aimed at improving the lives of the 50,000 people with autism in Scotland.
'Significant sum'
In November 2011, the Scottish government announced that around £13m will be spent, over four years, on improving support for autistic people and their families.
However, contained within the new report's suggestions is a call for the Scottish government to appoint an autism employment ambassador and have a public campaign to raise awareness of the condition.
Dr Robert Moffat, director of NAS Scotland, said: "This is a significant sum of public money and everyone involved wants to make the most of the opportunities it presents.
"We are encouraging government, local authorities and a range of organisations to listen to people with autism and work with them in order to maximise the effectiveness of the autism strategy for Scotland.
"We believe such a partnership is essential to improve quality of life for people with autism and their families."