Valuation rolls show what property Scots owned and rented in 1905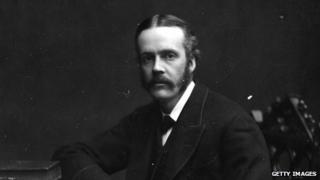 Financial records covering more than two million Scots at the start of the 20th Century are being released online.
The Valuation Rolls for 1905 - hosted on government family history website ScotlandsPeople - detail every property in Scotland with a rateable value.
Famous names which appear include Conservative prime minister AJ Balfour and Labour Party founder Keir Hardie.
As well as providing an insight into Edwardian life, it is hoped the records will prove useful to genealogists.
The rolls, searchable by name and address, detail the names of owners, tenants and occupiers of each property.
No Munros
People from all social classes are included - from well-known land and property owners, to the tenants of Scotland's tenements.
The Valuation Rolls show that The Right Honourable Arthur James Balfour of Whittinghame owned 235 properties in Scotland, in East Lothian and Berwickshire, while Keir Hardie owned just one property at Holmhead, in the parish of Old Cumnock.
Outdoor enthusiast Sir Hugh Munro, who gave his name to mountains over 3,000ft, is listed as a proprietor of two estates with gamekeepers, gardeners, farm workers and labourers - but no Munro mountains.
The records also reveal much about the changing social fabric of Scotland - including the growth in women owning property and running businesses, the rise in sports and recreation clubs, the development of music halls and theatres and the expansion of railway hotels.
As the rolls appear between census years, it is hoped they will prove invaluable for genealogists trying to fill in gaps about their ancestors.
Culture Secretary Fiona Hyslop said: "ScotlandsPeople is a wonderful gateway to Scotland's wealth of archives that tell the story of our nation and its people.
"I welcome this latest addition to their digital resources, which can be enjoyed by the people of Scotland, and people of Scottish descent everywhere."
Audrey Robertson, acting registrar general and keeper of the records of Scotland, said: "The latest release of details about property owners and tenants in 1905 will be very useful for people researching the history of their family, or of their house or local area."
The total archive comprises 4.2 million indexed entries and 2.4 million indexed names.