Pathhead, Huntly and Kilmarnock win Creative Scotland awards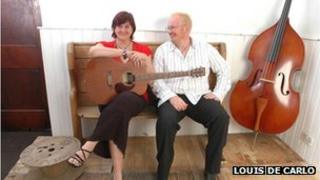 Pathhead, Huntly in Aberdeenshire and Kilmarnock have been named as Scotland's most creative places.
The awards were handed out by Creative Scotland to celebrate communities with strong cultural life.
The smallest town, Pathhead, is home to just 2,500 residents, among them professional musicians like Martin Green, Tom Bancroft and Karine Polwart.
The largest, Kilmarnock, will use the prize money for new events.
The Creative Place Awards recognise communities in three categories - under 100,000 residents, under 10,000 residents, and under 2,500 residents.
Each receive a cash award to help them to enhance and promote cultural activity.
Kilmarnock in East Ayrshire was praised for its range of year-round festivals including the Kilmarnock Edition Festival, Kilmarnock Fair Festival, Summer Symphony, Harvest and Imprint Festivals.
Leader of East Ayrshire Council Councillor Douglas Reid said: "We have a group of people out in our communities who are wholeheartedly dedicated to creating thriving arts venues, encouraging young people to participate in the arts and growing local music festivals.
"I couldn't be more proud."
Huntly's initiative called "The Town is the Venue", which uses the streets as a studio, gallery and open-air stage, was singled out by the judges.
Pathhead in Midlothian has said that the town will spend the money to fund the Pathhead Music Collective, which aims to make Pathhead internationally renowned as a centre of musical excellence.
Iain Munro, the director of creative development for Creative Scotland, said: "These three communities are fantastic examples of how embedding arts and culture within the foundation of a community strengthens and improves people's lives, impacting the social and economic wellbeing of the community.
"The Awards celebrate how arts and creativity can promote the identity and character of a place. Congratulations to all the winners and shortlisted places. The creative vitality and energy demonstrated in this year's shortlist is extremely impressive."
Last year's winners were Wigtown, West Kilbride and St Andrews.