Ice and snow warning for drivers across Scotland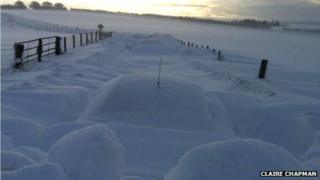 Drivers have been warned about ice and snow on Scotland's roads as dozens of schools were again closed.
A number of routes were closed in Grampian and others were hazardous or "passable with care".
Tayside Police also warned that ice and snow showers meant travel conditions may be hazardous, and snow was still affecting routes across the Borders.
More than 150 schools shut on Tuesday, and more than 70 closures were reported for Wednesday.
Most of these - more than 50 - are in Aberdeenshire, with smaller numbers in Aberdeen, Angus, Perth and Kinross, Fife and the Borders.
A woman was cut free from her car and taken to hospital after a crash on the A90 near Stonehaven, in Aberdeenshire, in what police described as "hazardous" conditions.
The accident happened at the Temple of Fiddes turn-off, and caused major delays. The woman's injuries were not thought to be life-threatening.
Grampian Police said fog and ice were making driving difficult and urged motorists to take extreme care.
Cars under snow
Runway clearing work was being carried out at Aberdeen International Airport.
And abandoned cars could only just be seen under deep snow on the Daviot to Drum of Wartle road.
In the Scottish Borders, gritters had been out in force but the council said some priority routes remained single-track due to drifting snow.
Teams were revisiting those roads with snow blowers and JCBs to try to ensure the roads returned to normal width as quickly as possible.
Areas particularly badly affected were the Stow to Lauder route, roads from Longformacus and Cranshaws to Gifford and links between Kelso and Greenlaw, Morebattle and Yetholm.
Scottish Borders Council's neighbourhood operations manager Kenny Hastings said: "We continue to ask for members of the public to be patient during this challenging time and we are doing our utmost to keep the Borders on the move with all available resources."
To access more information from your mobile, visit the BBC Weather and BBC Travel News sites.
The enhanced content on this page requires Javascript and Flash Player 9
Map Key
Land
Cloud
Lakes, Rivers & Sea
Fog
Light
Heavy
Frost
Light
Heavy
Pressure Fronts
Cold
Warm
Occluded
Rain
Light
Heavy
Extreme
Snow
Light
Heavy
Temperature tab only
Temperature (°C)
More details from BBC Weather