Edinburgh organ donor pilot scheme launched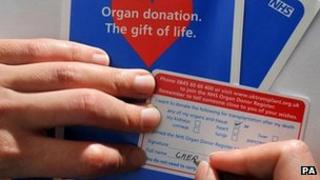 A new organ donation pilot programme being launched by NHS Lothian hopes to further increase the number of people whose lives can be saved or enhanced.
People who die after a heart attack in the community - and who have expressed a wish to donate their organs - will now have their wishes respected.
It has been made possible by improvements to the way emergency staff and transplant staff work together.
The pilot will run at the Royal Infirmary of Edinburgh.
There, emergency medicine clinicians and the Scottish Ambulance Service practise the most advanced resuscitation techniques, said a spokeswoman.
She stressed that, while many more people who have suffered a cardiac arrest in the community are now making a good recovery, when these prove unsuccessful, a decision will be made by two doctors that further treatment would no longer be in the best interests of the patient.
End-of-life options (including organ donation) will then be discussed with the family.
Respect the wishes
Previously, organ donation was not possible in these circumstances, even if the patient had made it clear that they wished to be an organ donor.
Minister for Public Health Michael Matheson said: "We welcome the fact that more people who experience a cardiac arrest at home or in the community are now surviving due to the introduction of modern resuscitation techniques by the emergency department clinicians and the Scottish Ambulance Service.
"However, when all attempts at resuscitation in hospital have been unsuccessful, it can be a source of comfort to the family to be able to respect the wishes of their loved ones who have made their organ donation wishes known by joining the NHS Organ Donor Register.
"This pilot programme is about doing this."
Dr Matt Reed, consultant in emergency medicine at the hospital, said it was part of "an ongoing programme of improving the management of patients who have had a cardiac arrest in the community".
Lothian is leading the way in Scotland in terms of population, with just under 50% of the population, signed up to the NHS Organ Donor Register.
However, only 41% of Scots have joined the NHS Organ Donor Register.