Jobless under-25s rate doubles in Scotland, says Rowntree Foundation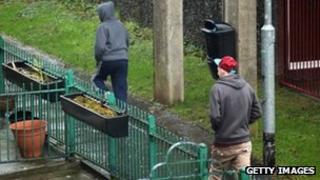 The number of young people who are out of work in Scotland has doubled in the last five years, a report by the Joseph Rowntree Foundation has said.
It also states that those in part-time jobs looking for full-time jobs has risen by 50,000 to 120,000.
But the report also highlighted that child poverty in Scotland is now lower than in England.
The foundation believes that not to act on the statistics now risks condemning future generations to poverty.
The report by the Joseph Rowntree charity comes on the day the Scottish government gave further details about its £5.4m fund to help hard-hit families.
Deputy First Minister Nicola Sturgeon said that many people across Scotland were suffering as a "direct result" of UK government benefit cuts.
"Citizen's Advice Bureaux across the country are currently dealing with nearly 800 new issues for every working day," she said.
"And the latest extremely worrying analysis about the families affected by benefits illustrates exactly that point."
The Joseph Rowntree Foundation's state of the nation report is the sixth of its kind.
Its authors, Hannah Aldridge, Peter Kenway and Tom MacInnes, used the latest official government data, including unemployment, education and health statistic.
They found that:
since 2008, the number of under-25s who are unemployed has almost doubled to 90,000
among those without dependent children, there was a rise in the number living in low-income, working families from 125,000 to 150,000
the number of people working part-time, who want a full-time job, has risen from 70,000 in 2008 to 120,000 in 2012
a boy born in the most deprived 10% of areas has a life expectancy of 68, eight years below the national average and 14 years below boys born in the least deprived areas
Scotland's child poverty rate dropped 10 percentage points in the decade to 2011, from 31% to 21% (from 340,000 to 220,000) and is now lower than England's
and, in common with the rest of the UK, pensioner poverty dropped substantially, from 230,000 to 120,000.
Mr MacInnes said: "With the political debate dominated by the referendum on independence, it's important to point out that the issues that are central to tackling poverty, such as health, childcare, schools and housing, fall within current legislative powers of the Scottish government.
"The problems highlighted in this report cannot wait; action can and should be taken now."