Drifting snow hits parts of Scotland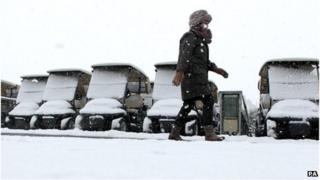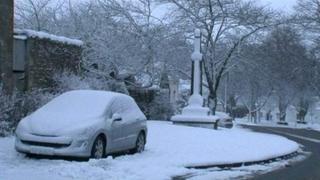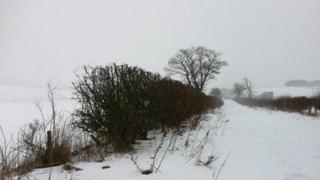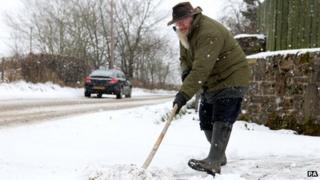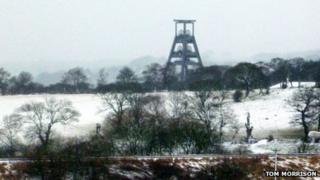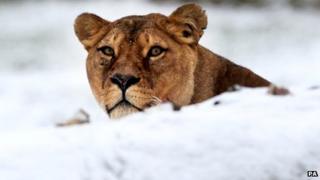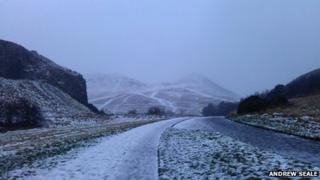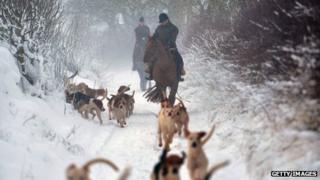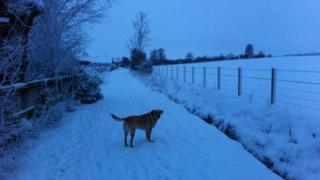 Heavy drifting snow has closed some schools and caused travel disruption across parts of Scotland.
Roads in the Borders and north east have been affected, airports warned of cancellations on some routes and more than 30 schools were shut.
The Met Office urged the public to "be prepared" for snow and gale force winds in eastern, central and southern areas.
Forecasters warned of heavy snow through Monday night into Tuesday, with blizzards possible on higher ground.
Scottish Borders Council's emergency bunker was activated to deal with problems in the area.
Drivers travelling between Scotland and England have been advised to use the A1 or M74 after the A68 was closed by snow in Northumberland after Carter Bar.
Airports across the country warned of delays and cancellations on some routes because of snow elsewhere in the UK and on the continent. Passengers were advised to check with airlines before travelling.
By mid-morning on Monday, 10cm (4in) of snow had fallen in Aboyne in Aberdeenshire, with 9cm (3.5in) falling in both Aviemore in the Highlands and Eskdalemuir in Dumfriesshire.
A total of 17 schools were closed in the Borders area on Monday. A number of other schools were partially closed.
Scottish Borders Councils said all school transport across the region had also been cancelled.
Road conditions across the region were said to be "particularly hazardous".
Five schools were closed in Aberdeenshire, five in Perth and Kinross, four in Angus and three in Moray.
Drifting snow was also causing problems on north east roads, forcing some closures.
Heavy snow - reaching up to 20cm on higher ground - was forecast for the worst-hit areas, along with a number of yellow "be aware" warnings across the rest of the country.
The Met Office said: "Persistent snow will continue to affect much of eastern Scotland for the rest of Monday, Monday night and on Tuesday.
"In the Amber area additional falls in excess of 10cm are likely, with drifting in the strong to gale force easterly winds. Further accumulations of 20cm or more are likely on ground above 250-300m, with blizzard conditions at times.
"The snow should become lighter from the south during Tuesday afternoon as the winds also start to subside.
"The public should be prepared for the risk of further disruption to travel, and the likelihood of road closures, as well as possible disruption to power supplies."
Transport Minister Keith Brown said: "Our Multi Agency Response Team (MART) will monitor the difficult conditions and the Scottish government's resilience team is also closely monitoring the situation to help deliver a co-ordinated response."
To access more information from your mobile, visit the BBC Weather and BBC Travel News sites.
The enhanced content on this page requires Javascript and Flash Player 9
Map Key
Land
Cloud
Lakes, Rivers & Sea
Fog
Light
Heavy
Frost
Light
Heavy
Pressure Fronts
Cold
Warm
Occluded
Rain
Light
Heavy
Extreme
Snow
Light
Heavy
Temperature tab only
Temperature (°C)
More details from BBC Weather