Glencoe avalanche: County Durham woman critical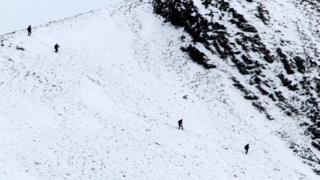 A woman from County Durham is in critical condition after six climbers were caught in an avalanche on a Scottish mountain.
Four people were killed in the avalanche on Bidean Nam Bian at about 14:00 GMT on Saturday.
One man survived and a 24-year-old woman from County Durham, was taken to hospital with serious head injuries.
Police said she remained in a critical condition and members of her family were with her at a Glasgow hospital.
Jonathan Hart, chairman of the Mountain Rescue Committee of Scotland, said: "This was a tragic event and I speak on behalf of all the mountain rescue team members involved when I say our hearts go out to the casualties and the families of all those involved."
Police revealed the names of three of those who died.
They are Una Rachel Finnegan, 25, from County Antrim, Tom Chesters, 28, who was living in Leeds and 24-year-old Christopher Bell, from Blackburn.
The name of the fourth victim, a woman, has not been released yet.