Glencoe avalanche: Three victims named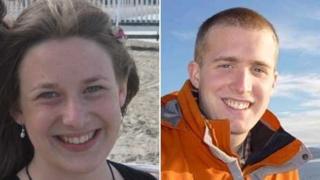 Three of the climbers who died in an avalanche in the Scottish Highlands on Saturday have been named by police.
They are Una Rachel Finnegan, 25, from County Antrim, Tom Chesters, 28, who was living in Leeds and 24-year-old Christopher Bell, from Blackburn.
The name of the fourth victim, a woman, has not been released yet.
A fifth climber, a 24-year-old woman from the Durham area, is in a critical condition in a Glasgow hospital with serious head injuries.
The sixth member of the party, who survived the avalanche in Glencoe, said they were all "experienced winter walkers".
In a statement, the man, who has asked not to be named, said: "On Saturday 19 January 2013, five of my friends and I were descending a mountain in Glencoe, in an area known as Church Door Buttress, when the party was swept away by a snow avalanche.
"It is with much sadness and deep regret that some of my friends have died as a result.
"All in the group loved the mountains and are experienced winter walkers."
The man thanked the rescuers for their efforts and requested to be left to grieve privately.
Police said Mr Bell, from Balderstone near Blackburn in Lancashire, was studying for a PHD in Ocean Mapping in Oban.
Dr Finnegan was a junior doctor living in Edinburgh.
Mr Chesters was a PHD student at Hull University, living in Leeds.
The climbers were caught up in the avalanche on Bidean Nam Bian in Glencoe at about 14:00 GMT.
Following a major search two men and two women were found dead, buried beneath the snow.
Scotland's first minister Alex Salmond said it was an "appalling tragedy".
He added: "Our immediate thoughts and prayers are with the families of those who have been lost."
Jonathan Hart, chairman of the Mountain Rescue Committee of Scotland, said: "This was a tragic event and I speak on behalf of all the mountain rescue team members involved when I say our hearts go out to the casualties and the families of all those involved.
"People come from all over the UK and the world to experience and enjoy the mountain scenery and sports in this part of Scotland."
The Reverend Moira Herkes of St Munda's Church, in the Highlands, said it was "the worst accident... here for many years".
"It is very distressing, because people come here for pleasure and when something like this happens it hurts everyone involved," said Ms Herkes.
"This is a very beautiful place, but at times it can be very dangerous."
It is understood the group were descending from a peak on the south side of the valley, when the slope they were on broke away.
Five of them were swept down the mountain and engulfed by ice and snow.
John Grieve, leader of Glencoe mountain rescue team, which co-ordinated the search, said the alarm was initially raised by two climbers - who were not part of the group of six - when they discovered one of the casualties lying in the snow.
Soon after, police were contacted by the party's male survivor who told them more people were missing.
A major search operation, involving two mountain rescue teams and police dogs, located the bodies of the climbers.
Bidean Nam Bian is a Munro - a mountain higher than 3,000ft - with a number of different climbs.
Mark Diggins, co-ordinator of the Scottish Avalanche Information Service, said weather conditions were fairly dry and there had been little snow over the last four days.
But he added: "An avalanche is possible to be triggered by a single person."