Deal struck to end impasse over police force's functions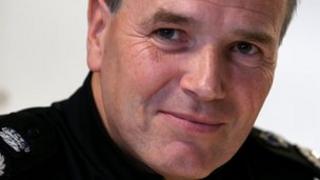 An 11th-hour intervention has ended a stand-off overshadowing the creation of Scotland's new single police force.
The issue of who should have day-to-day control of human resources and finance functions had been in dispute.
Chief Constable Steve House and Vic Emery, chair of civilian oversight body the Scottish Police Authority (SPA), had been unable to agree.
But Justice Secretary Kenny MacAskill intervened this week to ask the parties to consider sharing the functions.
His suggested deal was revealed at an SPA public meeting in Glasgow on the day of a deadline set by MSPs for the two parties to resolve the dispute.
Holyrood's justice committee had talked of a "power struggle" and called for an end to "empire building".
SPA board members have now approved Mr MacAskill's plan but Mr Emery said there is still "a huge amount of work to be done" before the Police Service of Scotland (PSoS) goes live in 55 days - on 1 April.
'Not a compromise'
Agreement has yet to be reached on how many staff will be required, how they will be divided, who is allowed to spend money and how much can be spent without further authorisation.
However, Mr Emery rejected Liberal Democrat leader Willie Rennie's prediction that any solution to the impasse would be "a jumble" and said: "This is not a compromise."
Mr Emery said he could appreciate Mr House's position - and both men thought the Scottish government should have intervened earlier.
Mr House told the meeting he was content with new arrangement, even though he believed "the principle is not one that I said is best-suited to running the police service".
"I welcome the development," he said. "It's a shame that this has come so late on."
Following the meeting, Mr House said: "Police forces are used to having HR and finance report to the chief constable.
"That's the way the model works - and the model does work. But it's a debate about different business models.
"I think the intervention from the government has been useful and we now need to sit down and thrash out the detail to get some clarity to support staff that work for us so they can start seeing what their future is."