Scottish Water charges to rise 2.8% - the first increase in four years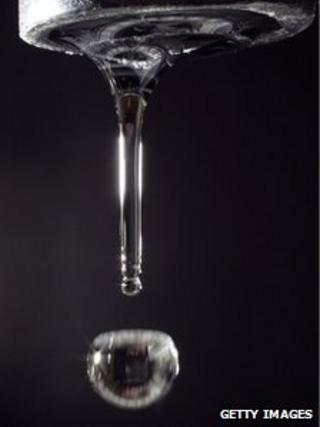 Scottish Water has announced its first rise in charges for four years.
The below-inflation rise of 2.8% means households will face average bills of £334 per year from April.
Douglas Millican, its interim chief executive, said the changes were "a fair deal for our customers in these challenging economic conditions".
The Water Industry Commission for Scotland (WICS), which regulates charges, said further increases in future years were likely.
Mr Millican said: "These charges are helping to pay for the current £2.5 billion investment programme, which is delivering the investment that Scotland needs in its water infrastructure while providing thousands of construction jobs.
"Millions of people are turning on their taps to clearer, fresher drinking water, enjoying a cleaner environment and receiving improved customer service as a result."
The Scottish government provided £440m towards that investment programme between 2010 and 2015.
Following a cut in the Scottish capital allocations from the UK government, the amount was reduced by £120m by the Scottish government in its 2011 spending review.
A Scottish government spokesman said Scottish Water was performing well as a public sector organisation.
'Price limits'
He also said the body had "a clear objective to provide one of the best value-for-money water and sewerage packages in the UK by 2015".
The spokesman added: "It will deliver a massive capital investment programme of about £500m per annum supporting thousands of jobs across Scotland."
Alan Sutherland, chief executive of WICS, which approves any changes to water charges, said Scottish Water was "modestly outperforming the challenges that were set for them at the last price review, in 2009".
"This has resulted in charges being around 5% lower than the price limits that were set," he said.
"Work on the next price review (which covers 2015-21) is now well underway. The likelihood is that charges will increase at less than the rate of inflation for the foreseeable future."
Scottish Labour said households would be "dismayed" at the increase, while Consumer Focus Scotland called the move "unfortunate".
Trisha McAuley, senior director at Consumer Focus, said: "It is a particularly tough time for consumers.
"Many are already struggling to balance household budgets with food and utility bill price hikes and, while this is Scottish Water's first price increase in four years, it is nevertheless unfortunate."