Blockbusted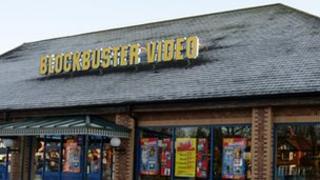 The biggest surprise about today's news about Blockbuster is that the administrators believe the core of the business is still profitable.
At Deloitte, their job is to do their best to keep it trading, then to sell it on, helping save jobs and protect creditors' interests.
But when they say the film rental business has "faced increased competition from internet-based providers along with the shift to digital streaming of movies and games", that's accountants' under-statement.
Blockbuster has in common with Jessops and HMV - the other two, high-profile retail casualties of the first two weeks of the year - that it has failed to adapt to the triple whammy of digital technology, competition from discounted online sales and the continuing squeeze from economic downturn.
Indeed, the main reaction I've heard to Blockbuster's bad news today is surprise that it has kept trading this long, and doing so out of 528 stores.
Stream or slip
It's now up against aggressively-priced offers of streaming video content from Netflix, which offers content for £5.99 per month, and LoveFilm, which has had to slash its prices to compete with Netflix. They're not just offering films, but also TV series.
Those form a growing part of the market, and it's particularly tricky for the Blockbuster's business model to compete with multiple episodes and box sets, particularly when its offer either requires a trip to the shops or a wait for the post.
A new generation of customers can't be bothered to do either, when it's so simple to press a button to get content delivered on demand.
As Paul Mason pointed out on Tuesday's Newsnight, the other attraction for youth of hanging around in record stores, that you meet like-minded youth, has also been replaced by online communities.
Blockbuster's innovation of a buy-back service for old DVDs, as Blockbuster has done, doesn't look like any way to build a competitive business model.
As I wrote last week, the Christmas trading reports so far show it's online that's kept successful retailers' numbers rising, while those without an adequate strategy for online sales are struggling.
Shrinking shops
The scale of repeated blows to retail has been assessed by one of the sector's number-crunchers, the Local Data Company.
It says more than 1,400 stores are now at risk of closure, or have just closed, compared with 807 that closed with Woolworths just over four years ago.
Of them, 46% are in high street units, 20% in shopping centres, 17% in retail parks and a further 17% in stand-alone locations.
Nearly quarter of them are in south-east England, and a tenth are in north-west England. Heathrow airport alone has five stores with parent companies in administration. Among Scottish retails malls, Fort Kinnaird in east Edinburgh has three.
According to Matthew Hopkinson, director of the Local Data Company says this has the potential to increase the national shop vacancy rate by nearly 5 percentage points to an all time high of more than 19% if all the stores close and are not re-occupied.
And that's a challenge not only to retailers, but to the landlords, in commercial property, who have been slow to adjust prices downwards to the downturn in the sector.
Hopkinson says other retail chains will be looking to reduce their scale, as consumer trends shift to online sales.
LDC says there are 92 retailers with comparison offers similar to the set-up in Comet, HMV and Jessops and which have store portfolios of more than 300 units.
Those exposed to lower-priced online competition, with high stock costs and facing digital disruption to their conventional markets are particularly at risk.
And those in the middle market, who don't have a cheap or niche offer - such as HMV - are also more vulnerable.
As with HMV and Blockbuster in recent months, customers themselves can see from pricing, staffing and slipping standards when a shop is heading for distress.
It's not for me to say who's next. But I doubt the retail collapses are over, and wouldn't recommend buying vouchers and gift cards if you can avoid it.
You can also comment or follow Douglas Fraser on Twitter: @BBCDouglsFraser