Lynda Spence trial: Missing woman seen as 'high-risk'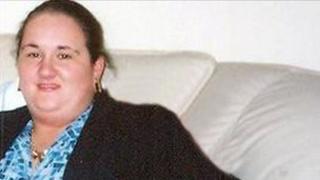 Up to 40 police officers were involved in the hunt for missing financial adviser Lynda Spence, a detective told the jury in a Glasgow murder trial.
David Parker, Paul Smith, Philip Wade and Colin Coats deny abducting, torturing and murdering the 27-year-old Glasgow woman in May 2011.
Asked about the numbers investigating, Det Sgt Aileen Boyle said: "About 30 to 40. Officers in different roles.
"Lynda Spence was considered a high-risk missing person."
The four men are accused of holding Ms Spence in a flat in West Kilbride in Ayrshire for a fortnight and cutting off her fingers and a thumb before murdering her.
It is also claimed the men cut off Ms Spence's head before disposing of her body.
The trial, which began on Monday, has resumed at the High Court in Glasgow after being halted on its second day because a member of the jury was unable to continue for personal reasons.
Burnt-out chair
Det Sgt Boyle, from the major crimes investigation team, told the court that she was involved in searches at a number of properties, including the home of Mr Wade in Dalry on 2 August and 2 September 2011.
The police officer said that, on the first occasion, a fingertip search was carried out and even the slurry tip was searched.
She told the jury that two areas of burning were found in the grounds, a burned shoe being discovered at one and some carpeting at the other.
The second time the area was searched, a burnt-out chair and a burnt-out mattress were found.
When asked if she was sure those items were not present at the first search, Det Sgt Boyle replied: "Absolutely."
The trial, expected to last 17 weeks, before judge Lord Pentland continues.