Holyrood committee warns Glasgow 2014 may squander legacy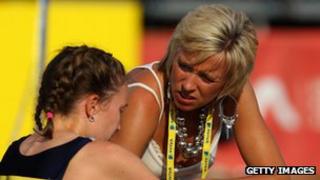 MSPs have warned that a lack of coaches, volunteers and facilities might squander the sporting legacy of Glasgow's Commonwealth Games.
The Scottish Parliament's health and sport committee has asked if there will be enough coaches to deal with an expected rise in interest in sport.
Members have asked the sport minister to report back before the summer.
Former Olympic athlete Liz McColgan and tennis coach Judy Murray had voiced their concerns to MSPs in September.
Committee members have told the minister, Shona Robison, that they are "surprised" by the lack of information on the number and skill level of volunteers.
They have also asked SportScotland to co-ordinate an urgent audit of volunteers in sports clubs and groups throughout the country and urged local authorities to do more to provide access to sport facilities, such as those in schools.
The national sports body has responded by saying it is already in the process of tackling many of the points made by the MSPs.
The politicians' concerns are outlined in the committee's newly published report on its inquiry into support for community sport, to which Judy Murray, the mother of the world number three tennis player Andy Murray, and Liz McColgan, now an athletics coach, gave evidence.
Convener Duncan McNeil said: "Our committee heard that Glasgow 2014 is a once-in-a-generation opportunity to secure a sporting legacy for Scotland.
"This is a commendable goal, but rhetoric won't become reality if we don't have the volunteers there to provide the coaching and run the clubs, or we don't make the most of existing facilities.
"This inquiry wasn't about how we find the next Andy Murray but recognising that sport has the potential to play a transformational role in our communities.
"For this to happen, we must grasp the opportunity to change Scotland's relationship with sport."
The committee said that, even with Glasgow 2014 approaching, there is a lack of detailed information about the scale and skills of the current volunteer workforce.
Access to school-based sports facilities has long been a cause of concern in certain areas of the country, anecdotally at least, the committee said.
MSPs are awaiting the findings of SportScotland's audit of access and will consider what bearing this may have on plans for opening up the school estate.
The report notes that 25% of primary children leave school unable to swim and the committee is seeking the views of the Scottish Government and other organisations on how this can be addressed.
A spokesman for SportScotland welcomed the report but said: "We are already engaged in developing many of the report's recommendations.
"We recognise that volunteers in sport are invaluable and the recruitment, retention and training of volunteers is a priority, which is why we have progressed the Volunteering in Sport 2011-15 framework in conjunction with Volunteer Development Scotland.
"A key component of the sporting legacy from Glasgow 2014 is community sport hubs and there are currently over 60 hubs in operation across Scotland.
"By 2016, there will be 150 across all 32 local authorities in Scotland, with at least 50% of these based in schools, providing more and better opportunities for people to engage in an active, healthy lifestyle.
"We are engaging with sports clubs throughout Scotland and will be announcing a further initiative later this year."