A GP's view: Orphan drug costs 'prohibitive'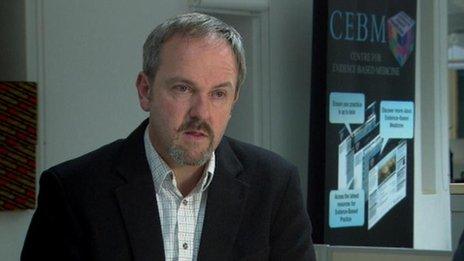 Carl Heneghan is a GP and director of the University of Oxford's Centre for Evidence Based Medicine.
He believes orphan drugs are proving too costly for the NHS and says the price of the treatments often do not reflect their effectiveness.
"Orphan drugs are designed to treat rare, life-threatening or debilitating medical conditions known as orphan diseases.
In America, rare is defined as affecting less than one in 1,500 of the population, in Europe the figure is less than one in 2,000.
In 1983, the US Orphan Drug Act was enacted to boost research into orphan diseases.
It was believed that, without incentives, manufacturers would not cover the costs of an orphan drug's development. A number of incentives were therefore designed to increase their development.
In the US, these include the selling of the drug without competition for seven years, tax incentives, and an accelerated approval process. In Europe, approval fees are reduced, the European Medicines Agency offers administrative assistance and orphan drugs gain market exclusivity for 10 years.
By 1983, only 38 drugs in the US were approved to treat such diseases. By 2010, 352 orphan drugs were approved: one-third for cancer.
Some of these drugs have certainly gone on to earn more than their costs of development. Approximately one in 10 has generated more than £620m of revenues.
Nine of the most expensive drugs on the market, which cost more than £125,000 a year, treat diseases afflicting fewer than 10,000 patients.
Companies are free to charge whatever they want during that seven-year period of market exclusivity.
One of the world's most expensive drugs, at £250,000 a year, is Soliris, for the treatment of the bone marrow disease Paroxysymal Nocturnal Hemoglobinuria.
The manufacturer, Alexion, says its price is fair because the drug's development bore enormous costs and risks.
In 2010, three other drugs cost more than £220,000 per patient per year. A Forbes report claimed that Elaprase, a drug which costs $375,000 per year to treat Hunter's syndrome, had sales of $353m for a disease that affected just 500 Americans.
There has been extensive criticism of the Orphan Drug Act, with some doctors raising concerns that costs are proving prohibitive.
One of the drugs I looked at was oral ibuprofen. Readily available over the counter, it costs £0.08 per gramme: when used in its intravenous form (Pedea) for the treatment of the orphan disease Patent Ductus Arteriosus (a hole in the heart) it costs 82,175 times as much, £6,575 per gramme.
The manufacturer, Orphan Europe, say Pedea has been 'specifically developed' as a ready-to-use intravenous formulation for a 'very fragile patient population' that is different to those who normally use ibuprofen. They also say it is priced in a socially responsible way, reflecting the drug's value and the cost of research.
I have concerns that many countries around the world simply cannot afford nor pay for new treatments. For instance, Pompe's disease, affecting one in 140,000 and usually detected in early life, has a median survival of 8.7 months from the time of diagnosis.
In one study, of the orphan drug Myozyme, treatment reduced the risk of death by 99% at 18 months compared to an untreated group. Yet, in the US, Myozyme costs an average of £185,000 a year, and in the UK costs for an intravenous infusion are £38,333 for a 10kg child and £230,000 for a 60kg adult.
Good evidence of effect does exist for orphan drugs and some investigators go to extraordinary lengths to undertake research into rare conditions.
Yet, the costs of the drugs are often prohibitive and calculating whether they reflect the development costs is difficult.
Given the global importance of these treatments, publicly-funded initiatives are required as well as a move towards a common pricing based on a drug's true value."
BBC Scotland Investigates: Life, Drugs and Enormous Amounts of Money is on BBC One Scotland at 10:35 on Wednesday 16 January, and for a week afterwards on the BBC iPlayer.
Related Internet Links
The BBC is not responsible for the content of external sites.