Oiling Scotland's corporate wheels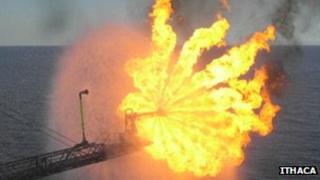 It's a rare day that more news of offshore oil and gas investment doesn't come my way.
Today, it's the claim from Taqa that it's brought a field on-stream in record time.
Yesterday, it was a BP order for Babcock workers at Rosyth to build subsea kit bound for west of Shetland.
And a recruitment site, oilandgaspeople.com, set out strong prospects for people with the skills the sector's seeking.
Those skills are now sought around the world, so there's upward pressure on wages.
An indication of the sector's importance was given by the latest mammoth data-set from Alasdair Northrop and his spreadsheet team at Scottish Business Insider magazine.
It takes a combination of profit and turnover to compile a league of Scotland's top 500 companies.
This lacks those companies who don't break down their figures for Scotland, including BP, Shell and Diageo. And it includes the success of Scottish-based companies, such as Weir and Wood groups, which make much of their money outside Scotland.
But it's a very useful guide to Scotland's corporate strengths, and some weaknesses. And out of the top 25, nine companies are in the offshore oil and gas sector. A further four are in other areas of energy.
Total Upstream UK comes second, after Standard Life. That's for financial figures that preceded its Elgin platform leak last year.
Chevron North Sea is at number five, Suncor Energy of Canada is at 8, Dana Petroleum at 11, Taqa Bratani at 12 and Talisman Energy at 13.
So far, they're all owned and controlled overseas - in France, Canada, Korea, the US and Abu Dhabi. Wood Group, headquartered in Aberdeen, comes in at number 15.
The Business Insider calculations are that oil and gas provides 51% of the top 500's total profits and 14% of turnover.
Profits among those energy firms were up 27%, with a 17% boost to total turnover and 10% more employees to 72,590.
Among the other top findings of the Business Insider Top 500 for companies reporting during 2012, Standard Life's top placing knocked SSE off the perch. The Perth-based energy supplier was hit by asset write-offs affecting profit figures.
Total profits fell 17%, while turnover fell by 0.1% to £176.5bn.
And Scotland's biggest firm, Royal Bank of Scotland?
Its profit figures have it pegged back at number 270. Although the biggest employer, it's taken the biggest hit to staff numbers, while Clydesdale Bank headed the loss-leaders' table.
You can also comment or follow Douglas Fraser on Twitter: @BBCDouglsFraser