More 'user friendly' hospital visiting hours pilot launched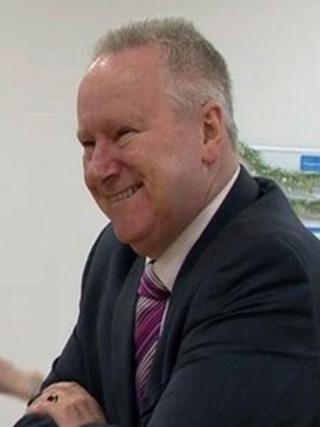 More flexible visiting hours at Scottish hospitals are being piloted to enable friends and family to visit patients at more convenient times.
Health Secretary Alex Neil said the pilot was "the first step towards making our NHS more 'user friendly' and giving patients what they want".
The pilot is being launched at Dundee's Ninewells Hospital.
The British Medical Association (BMA) in Scotland welcomed the move but said clinical care should be the priority.
NHS Tayside is one of five health boards participating in the pilot which will see visitors allowed nine hours of the day, instead of during shorter set windows.
NHS Fife, NHS Forth Valley, NHS Dumfries and Galloway and the Golden Jubilee National Hospital are also taking part in the scheme.
Mr Neil said: "By making visiting hours fit better with modern day working patterns, it will be easier for family and friends to visit patients, which in many cases will help to speed up recovery, as support from family and friends is a crucial part of the healing process.
"It will also take some of the pressure off staff, as visitors will be spread out more throughout the day."
'Real benefits'
Theresa Fyffe, the Royal College of Nursing Scotland director, said: "There are real benefits for patients.
"We know from areas such as children's care that having familiar people involved at mealtimes, for example, can make hospital stays in particular less stressful for all concerned.
"There is also evidence from people with dementia and their families and carers that flexible approaches to hospital visiting are important in improving the quality of care and can help make patients more comfortable."
But the BMA warned there was a balance to be struck between patients rights and clinical priorities.
Chair of the BMA's Scottish Consultants Committee Dr Lewis Morrison said: "It is right to offer flexibility in visiting where feasible, but for many acute wards, the priority is first and foremost the acute medical, nursing and therapy care which people require.
"Therefore there will always be times when visiting isn't practical. Wards should and do offer flexible visiting to recognise some patients' and families needs without formalising completely open visiting."
Patients charter
In September 2012 the Scottish government published the Charter of Patients Rights and Responsibilities. It outlined the rights users of the NHS can expect in six specific areas.
Margaret Watt, chairperson of the Scotland Patients Association, said the pilot "showed the Scottish government was listening".
She added: "Patients heal better if they get visits from friends and family.
"It's a step in the right direction. I know it will work if we all work together."
A decision will be made in April about whether to extend the pilot.