Scots councils bring in more salt and gritters to cope with snow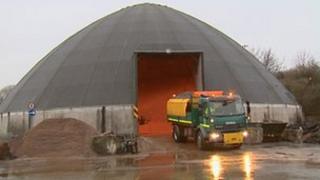 Councils have more salt in stock or on order than ever before to cope with the risk of snow and widespread ice, Scotland's transport minister has said.
Keith Brown said more gritters and specialist equipment had been purchased to try to combat the conditions.
Forecasters said Scotland was expected to escape the most severe weather which was due to hit other parts of the UK.
But Mr Brown warned drivers to brace themselves for a "testing return to work" on Monday.
Weather warnings are in place for snow and icy conditions across many parts of Scotland over the next few days.
Wintry showers began in the north east of the country on Saturday and about 3cm of snow fell in the east and in the Borders on Sunday.
The average temperature of about 2C is expected to fall dramatically and the Met Office has issued yellow "be prepared" weather warnings for Grampian, Central, Tayside and Fife, the Lothians and Borders, Strathclyde and the Highlands.
Ice warnings have also been issued for much of the country, with rain and sleet mixing with the snowfall.
"Significant accumulations" of snow are expected on Monday, even at lower levels, with the potential for some travel disruption.
Mr Brown said: "We can expect colder days, overnight frosts, a risk of widespread ice, some freezing fog and snow.
"Local authorities and operating companies have more salt in stock or on order than ever before, additional gritters and specialist equipment has been purchased, and new weather stations and cameras are helping to improve decision making and deliver better informed communications.
"A conference call with the Met Office, operating companies and Transport Scotland officials took place on Friday to ensure suitable planning and preparations are in place.
"The Multi-Agency Response Team stands ready to be fully operational should conditions escalate, and ministers are receiving regular updates."
To access more information, from your mobile, visit the BBC Weather and BBC Travel News sites.
The enhanced content on this page requires Javascript and Flash Player 9
Map Key
Land
Cloud
Lakes, Rivers & Sea
Fog
Light
Heavy
Frost
Light
Heavy
Pressure Fronts
Cold
Warm
Occluded
Rain
Light
Heavy
Extreme
Snow
Light
Heavy
Temperature tab only
Temperature (°C)
More details from BBC Weather