West Highland Way among recipients of £3m cash injection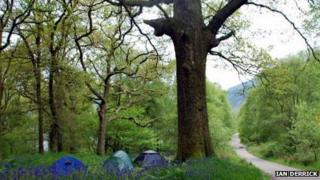 Some trails on Scotland's famous West Highland Way will be improved with £750,000 in government funding.
The cash injection will be spent improving parts of the 96-mile-long route from Milngavie to Fort William.
The money is part of £3.15m being given to Forestry Commission Scotland to improve Scotland's forest estates.
Another £1m will be spent building more than 11 miles of new paths and upgrading surfaces on the Great Glen Way between Fort William and Inverness.
And £900,000 has been earmarked for building refurbishment, including installing a biomass-based heating system in the forestry office at Aberfoyle and upgrading workshops in Cairnbaan in West Argyll and Creebridge in Galloway.
A total of £500,000 will also be spent on stabilising the slopes above the A82 road near Fort William, where the harvesting of older trees is taking place.
Environment minister Paul Wheelhouse said: "We want more Scots and visitors to enjoy and have access to Scotland's great outdoors. This funding boost for the Forestry Commission Scotland will help towards achieving that.
"The projects will not only create new work and jobs but will also have a lasting benefit in supporting green tourism in rural parts of Scotland and encouraging people to get involved in physical activity."