Shops 'til they drop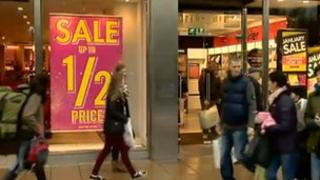 The new year starts the way the old one ended, with the focus on retail.
And as one of the unhappiest of the economy's sectors, it's worth more of a look than the best deals at the winter sales.
Last year, numerous chains went into administration - from Clinton cards to Happit clothing to JJB sports gear and La Senza lingerie - some of them reviving under new corporate entities. At year's end, Comet was among the big casualties.
And with the new year, the future doesn't look good for HMV, which is unlikely to fail to meet its banking covenants.
When you consider the departure of Our Price, Tower Records, Virgin Megastores, Zavvi, MVC, Music Zone, Andy's, Border's and Woolworths, it's not just the story of the downturn. It's also a permanent shift in the way music, games and films are purchased, and the way we shop.
Nor is it a British phenomenon. Virgin France has just announced it's about to be declared insolvent.
Online on song
That online story is a big part of the Christmas trading figures we've had so far this month.
The British Retail Consortium reported today that December sales were up in nominal terms, but failed to match inflation.
Wise firms were following the rising star of online non-food sales, which were up by 18%. Without that, there would have been an overall fall.
While Debenhams reported sales for the five weeks to 5 January keeping in line with inflation, it showed that online grew by 46%. It now represents more than an eighth of the department store's sales.
In the same sector, House of Fraser reported its best December figures ever. The six weeks to 5 January were up 6.3%, with online up by 48%. Fashion and beauty did particularly well.
While we await news from Sainsbury's, Tesco's and Marks and Spencer later this week, the standout bad news is from Morrisons.
With a relatively big footprint in Scotland and the north of England, it's admitting "disappointing" trading, down by 0.9% in the six weeks to new year, and like-for-like down 2.5%.
No wonder that it's regretting the failure to keep up with its convenience store roll-out, which has only just begun, and its online and home delivery option, which doesn't exist - yet.
Grocery basket
Kantar Worldpanel, the retail consultancy, published its findings on UK grocery market share in the six weeks to 23 December, showing till receipts up on 2011 by 3.2%, against grocery inflation of 4.5%.
It showed Morrisons as the main Christmas loser. It may not look catastrophic to lose 0.4% of market share, down to 12%. But bosses and share prices get punished severely for failing to keep up momentum.
Just ask Tesco. It ended a difficult year with the relief that it only dropped 0.1% of market share in the Christmas grocery market, according to Kantar. That takes it down to 30.5%.
Asda, meanwhile, retained its second place, but only just. Its share was down from 17.5% to 17.3%, while Sainsbury's saw a rise of 3.4% in takings, and a slightly bigger slice of the total market, at 17.1%.
Kantar suggests the big risers were Aldi, with grocery receipts up 30%, Lidl up by 11% and Iceland up 10%.
That's a significant threat to the big four, but combined, those three only have 8.2% of the grocery market. They've got a lot of market share still to grab.
Bargain hunters
Among those benefiting from all those home deliveries is UK Mail, private rival to Royal Mail, which says volumes between October and December were up 20%, with revenues up 14%.
Part of that boost may be explained by an astonishing figure I heard from Susan Nicol, manager of Glasgow's St Enoch Shopping Centre.
She was on Radio Scotland's Business Scotland programme at the weekend, telling us that 40% of online clothing purchases are returned, and 10% in electrical goods.
And outside conventional retail, the boost to e-commerce is seen in pizza deliveries.
Domino's reported rapid growth last year, with online up last year by 46% to £269m. It's now more than half of sales, with mobile orders up last year by a fifth.
The other theme coming through from the reported figures so far is that people left it late to commit (Majestic Wines noted that in particular) and that they were looking for discounts before Christmas rather than waiting until after.
Anticipating that, from autumn figures and Christmas 2011, helps explain why Debenhams did better than others.
Overall, it's a puzzling picture to see the data about the economy still struggling, yet significant signs that individual businesses are doing not too badly.
Austerity is biting, but many households feel immune and are willing to spend on bargains and value, online or in an attractive location.
This week, we got 2012 figures for new car registrations - up by 9% in Scotland, ahead of the UK figures. I'm told by one showroom boss that new cars are doing much better than second hand.
You can also comment or follow Douglas Fraser on Twitter: @BBCDouglsFraser