New Scots-wide road policing unit unveiled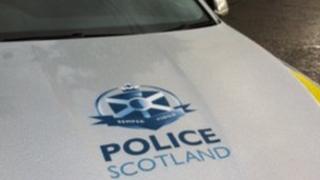 A Scotland-wide road policing unit will form part of the single police service when it comes into force this April.
The aim of the new Trunk Roads Patrol Group is to improve public safety and increase police presence on the roads.
Chief Constable Steve House unveiled the plans when he met police officers at the roads policing unit in Stirling.
The unit will operate around the clock providing high profile traffic enforcement on major national routes including motorways.
Ch Con Steve House said: "This twin track approach delivers a police service for Scotland at a national and a local level.
'Smarter policing'
"By creating a new national roads policing unit with bases across the country, we can raise our visibility with the public across some of our busiest roads, encouraging responsible driver behaviour and tackling those who make the roads less safe for others."
He added: "We want to deny criminals the use of the road network. We also want to improve further the record Scotland has in reducing fatalities and injuries on the roads.
"The move to a single service allows us a real opportunity for smarter policing, better matching resource to demand and ensuring we continue to build on the lowest crime for 37 years."