Whisky tax 'could benefit Scots'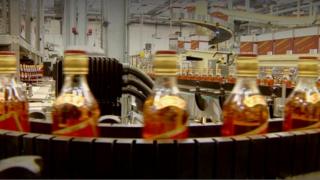 A tax should be levied on each bottle of Scotch whisky to give its country of origin a greater share in its growing success, economic experts have said.
It is reckoned a tax of £1 on the production of each bottle could boost Holyrood coffers by at least £1bn.
The call came from Professor John Kay, who served on the Scottish government's Council of Economic Advisers.
The Scotch Whisky Association said the move would hit demand, reduce investment and cost Scottish jobs.
Prof Kay said the recent exporting success of Scotch had brought "disappointing" benefits to Scotland.
In a BBC Scotland investigation, Sir George Mathewson, who was chairman of the Council of Economic Advisers appointed by First Minister Alex Salmond, supported the idea.
The Scottish government cannot now tax the alcohol, as that power is reserved to Westminster.
However the former chairman of the Royal Bank of Scotland said Holyrood could put a levy on the water used in the distilling process.
Powers over charging for water are already devolved to Scotland so it was argued they would not require additional constitutional changes.
The Scotch whisky industry said it exported 40 bottles per second in 2011. When the produce left the distilleries, it was reckoned to be worth about £5bn.
In addition to the huge market in the United States and France, Scotch has had great success in attracting the fast-growing middle class in emerging markets from South America to Asia and Africa.
However, Mr Kay, who is an economics professor and author, criticised the industry for the concentration of ownership in major corporations outside Scotland, meaning most of the profits leave the country.
Diageo, which has its headquarters in London and is also listed on the New York stock exchange, is the leading player.
It is expanding towards a 40% share of the Scotch market.
Whisky is about a third of its business, with total profits last year of £3bn.
Prof Kay said: "I think the benefits to Scotland from the whisky industry are really quite disappointing."
"The largest producers are not based in Scotland.
"Their profits go mostly to people who are not resident in Scotland. They don't pay much tax in Scotland, and we don't think they pay much tax in the UK."
According to analysis by Biggar Economics consultancy, in work commissioned for BBC Scotland, the Scotch whisky industry spends about £500m on paying fewer than 11,000 direct employees.
Supplies are reckoned to cost the industry around £1.5bn, of which 80% goes to Scottish firms, including grain farmers, packaging and haulage.
That leaves £3bn in profits and the cost of capital.
On that basis, it is calculated that a 10p per bottle tax on the production of Scotch whisky could raise £104m, rising to £1.04bn for £1 per bottle.
That assumes distillers absorb the extra tax from profits, which would lead to a drop in corporation tax paid to the Treasury in London.
If, however, the tax is passed on to customers in higher prices, it is assumed there would be a drop in demand but it would lead to a much smaller drop in corporation tax paid by distillers.
In that case, Biggar Economics said there would be a £128m net gain from a 10p tax and £1.22bn gain from a £1 per bottle tax.
Sir George said a new tax of 50p per bottle could lead to higher prices but that "would not be a major percentage of the sales price".
He said: "It's also highly profitable as I understand it, so it would seem to me there's room there for something."
He argued that employment from whisky was "pretty minimal for that scale of business".
And he said that a bottle tax would be mainly paid from overseas rather than the UK.
"I don't believe it (the industry) would be substantially harmed and I believe that the success could be spread around a little more," Sir George said.
Gavin Hewitt, chief executive of the Scotch Whisky Association, which represents the industry, stressed that Scottish-made whisky was competing in tough international markets where it was up against other whiskies and other spirits, from vodka to distilled rice.
He said: "I cannot see why any government would apply a production tax which would make Scotch whisky less competitive overseas against other drinks which are cheaper to produce and cheaper to sell."
He went on to stress the industry's commitment to Scotland, saying: "We have already enjoyed over £1bn of investment into Scotland in the past four years.
"I will put my head on the block now and say that we're going to enjoy £2bn of investment in the Scotch whisky industry in the next three to four years."
Peter Lederer, director of Diageo in Scotland and a senior figure in the tourism sector, said that a new tax would send the wrong signals to those thinking of investing in the Scottish economy.
He said: "If the argument in an economy is to take a successful business and keep taxing it because it's successful, then I think that gives the wrong impression."
Scotched Earth will be shown on BBC1 Scotland at 22:35 on Wednesday 9 January. It is also scheduled for broadcast several times on the BBC News Channel during Saturday 12 and Sunday 13 January.