Cancer 'changes outlook on life'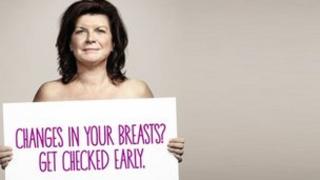 A new study has offered a snapshot of how being diagnosed with cancer led many people to make positive changes to their lives.
Two thirds of the cancer survivors surveyed said they had done something they never done before after being diagnosed.
Half got involved with a charity, while 39% went on a dream holiday.
The figures were disclosed by the Scottish government's £30m detect cancer early campaign.
They suggested those affected by cancer felt a renewed sense of the importance of family and loved ones in their lives after they discovered they had the disease.
Three-quarters said their children made them keep going while getting treatment, and 71% said their partner motivated them to get through the tough times.
Tourist attraction
Some 44% appreciate their life because they lived to see the birth of their grandchildren, and a third say that seeing their children graduate made them glad to be alive.
Almost two-thirds spent quality time with their family following diagnosis and 35% told people that they loved them.
Survivors also treated themselves to one-off experiences, with 39% going on a dream holiday and 43% visiting a major tourist attraction they had always wanted to see.
Other things people did following diagnosis include ending an unhappy marriage, starting a business and learning to play the piano.
The statistics also disclosed how people's view of cancer and its prevention altered after the experience of having the disease.
Three-quarters said their attitude towards cancer had changed since being diagnosed, and nine in 10 survivors said that since going through treatment, their attitude towards surviving cancer has improved.
Almost 60% noticed the cancer symptoms themselves, or by self-examination, while a quarter had their cancer detected through a screening programme.
Before they were diagnosed, 40% took part in screening programmes but after their experience with cancer, 80% now get regularly screened.
The research involved 150 cancer survivors from across Scotland, mostly over the age of 55.
The campaign aims to increase the number of cases detected at the earliest stage of the disease by over 25% by 2016.
It is focusing on breast, bowel and lung cancer, the three main cancers that affect Scots.
Death rates
Breast cancer is the current focus of the campaign and is the subject of a television advert featuring actress and comedian Elaine C Smith whose mother died from the illness.
The ground-breaking health campaign is the first in the UK to show real pictures of women's breasts that have been affected by cancer.
It carries the message that lumps are not the only sign of cancer and that people should be aware of any changes to their breasts.
Breast cancer is the most common cancer in Scottish women, accounting for almost 30% of female cancer cases in 2010.
The number of people diagnosed with breast cancer is projected to rise to around 5,180 a year from 2018 to 2022, compared with around 4,430 a year in 2008-12.
Deaths from breast cancer have fallen 21% in the past 10 years.
Other figures out recently show that cancer deaths have reached their highest number in almost 20 years, despite a fall in mortality rates for the disease.
Overall cancer death rates have fallen 12% over the past 10 years.
The total number of deaths rose to 15,375 in 2011, the highest since 1993. This is linked to Scotland's ageing population, as cancer is relatively common among older people.
A total of 4,178 deaths in 2011 were from lung cancer, more than any other form of the disease.
Colorectal cancers killed 1,526 people in 2011, with 1,041 breast cancer deaths and 900 prostate cancer deaths.
But between 2001 and 2011 the overall cancer mortality rate fell 15% for men and 7% for women.