A year in Scotland's education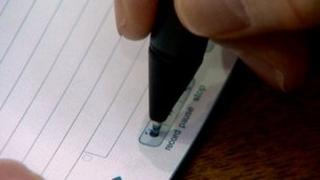 A new James Bond film burst on to the scene this year and so did a row about use of an alleged spy-pen against Mike Russell, Scotland's Education Secretary.
College chairman Kirk Ramsay said the device was merely a modern way of taking notes in meetings.
The minister called on the chairman to resign. The chairman called for an inquiry into Mr Russell's alleged intimidation of senior figures in Scottish education.
The row ignited coverage of the controversial funding of further education colleges. Political parties rowed over the figures. Audit Scotland, an independent watchdog, indicated the cut was 24% to £471m over three years.
But the Scottish government suggested there was a compelling case for mergers and rationalisation since some courses do not lead to jobs or may be duplicates of courses running at neighbouring colleges.
Exam results
It was another year of record exam results with the number of 15-year-olds passing five good Standard Grades rising another 1% to 80%.
The number of 16-year-olds passing three Higher exams, the minimum passport for university, also rose 1% to reach 27%.
But just 2.5% (220) of nearly 9,000 young people in the poorest neighbourhoods in Scotland secured three As in the Higher exams.
It may or may not be linked to a stunning survey over three years by Education Scotland which revealed 29% of secondary schools in poorer areas do not pass their inspections.
In a largely apolitical speech in December the Scottish Labour leader Johann Lamont said: "Scotland must face up to the fact that in recent decades we have fallen behind. We are no longer top of the table."
The party has begun to distance itself from the policy it once supported of free university tuition. The SNP says Labour is adopting "Conservative colours".
Figures from the Higher Education Statistics Agency indicate the policy is not yet making an impact on the number of poorer people on campuses. The figure is 27% in Scotland compared to 31% in England and 39% in Northern Ireland.
The Scottish government has asked universities to sign agreements aimed at increasing the number of students from poorer homes. And it has ring-fenced £10m to ensure the recruitment of 2,000 extra such students.
At present St Andrews recruits just 14. It links this to the small number from this background willing to study far from home and the small number securing three As in Highers.
University access
Universities across Scotland are scaling up access schemes such as bursaries for accommodation and school visits to inspire aspirations to university.
There was disappointment for some universities in the THES international league table but Strathclyde was awarded the coveted title of UK University of the Year.
Universities are relieved a deep cut in public funding has been reversed but privately a little concerned by signs that the Scottish government may, in time, be more involved in university governance.
As Scotland has bowed out of two of the three main international education surveys, it is a challenge to offer a clear picture of the current state of play in school education, apart from exam results.
Scotland awaits publication in late 2013 of the Program for International Student Assessment (PISA) run by the Organisation for Economic Co-operation and Development. The last PISA survey indicated Scotland is "treading water".
There are hopes the new Curriculum for Excellence (CfE) will make a significant difference over time. It aims to cut down on spoon feeding of education to pass exams. The goal is that more young Scots leave school able to think for themselves and deal with a fast-changing world.
CfE is world-leading according to supporters. Detractors say it is too radical.
Research from the Organisation for Economic Co-operation and Development (OECD) indicates Scotland and Indonesia are alone in giving schools full autonomy over the curriculum. To date ministers have not commissioned independent research into the impact of CfE on children's education.
Gaelic provision
The education secretary said related exam reform will prove to be a success while radical reforms to the exam system in England will "end in tears".
The little-reported Doran inquiry on children with special needs concluded their education can be affected by formidable bureaucracy and inadequate teacher training.
Local authorities hit by the need to make savings indicate there is only so much they can do.
There is welcome news unemployment has abated among new teachers. Now more than 60% are obtaining full time posts, albeit many are temporary.
There is, however, growing concern about the difficulty in some areas of finding supply teachers to cover for ill teachers because most now take home not much more than £70 a day.
Applicants to teacher training courses now face literacy and numeracy tests. Anyone who fails has to prove competence before they receive a licence to teach.
The number of five-year-olds going into schools or units where Gaelic is spoken is set to double to 800 under a plan to revitalize the language. Currently just 1% are educated in the Celtic language of their country compared to 7% in Ireland and 21% in Wales.
Nurseries are changing. Qualified teachers are not a regular full-time presence in all. There are increasing numbers of staff with other qualifications and an often longer working year.
Challenges to this and other changes look set to be a fixture in 2013.