Fisheries 'at risk' without reform warns WWF Scotland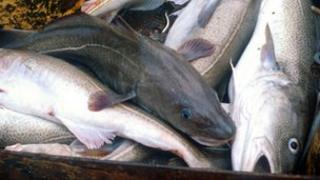 Urgent reform is needed if the fisheries in the west of Scotland are to have a future, WWF Scotland has warned.
The wildlife conservation body has urged the Scottish government, the fishing industry and the EU to work together to agree a way forward.
It follows analysis which showed that in 2011 discards of haddock, cod and whiting were at unsustainable levels.
WWF Scotland said unless changes were made the future was "pretty bleak".
According to scientists at the International Council for the Exploration of the Seas (ICES), in 2011, west coast cod discards were "11 times greater than landings".
While the year's total cod catch was 6,364 tonnes, only 8% were landed, the analysis showed.
Estimated catches of haddock stood at 3,227 tonnes, of which almost half were discarded, while of the 569 tonnes of whiting caught, 60% were thrown back in the sea.
Similar analysis by the ICES for the North Sea showed cod discards have reduced from 62% in 2008 to 24% in 2011.
Sustainable practices
Dr Mireille Thom, senior marine policy officer at WWF Scotland, said: "Despite a number of positive initiatives, Scotland needs to continue the drive towards restoring fish stocks in the west of Scotland, which would allow communities and fishing fleets to thrive.
"We are calling on all stakeholders, including politicians, industry and NGOs to work together to agree a way forward.
"We already know this joint approach has started to work in the North Sea, with cod discards by Scottish vessels more than halved since 2008."
She added: "Unless there is a concerted effort by all the key stakeholders then the future for the west of Scotland fisheries, and those who rely upon it for a living, is pretty bleak."
WWF Scotland said it was also crucial to ensure reform of the Common Fisheries Policy changes the way European fisheries are managed as "the current top-down model cannot deliver sustainability."
The conservation body had called for action that will:
Build on existing measures by introducing more selective fishing gear such as the use of 'flexible grids'
Ensure that the existing Cod Recovery Plan (CRP) is adapted to the needs of the fisheries on the west of Scotland
See all stakeholders work together to agree a common goal for the west of Scotland fisheries and to deliver it through sustainable measures and practices
Fisheries Secretary Richard Lochhead said he agreed that progress in efforts to cut discards in west of Scotland fisheries must be maintained next year.
He added: "During 2012 we have worked with the industry to introduce new conservation measures on the west coast - and in the prawn fleet we expect to see unwanted by-catch of haddock and whiting cut by more than 50%. We also provided incentives for west coast vessels to fish further south, helping cut cod discards.
"We will continue to work closely with Scottish fishermen - and all those with an interest in sustainable fisheries, including WWF - to reduce discards and safeguard west coast fisheries."
Earlier this month a deal was reached in Brussels on EU fish conservation measures.
The fishing industry had faced the threat of further automatic cuts as part of the EU's Cod Plan.
It argued the cuts were unnecessary because of a doubling of cod stocks.
The new agreement allows for catch levels to increase for some white fish stocks off the west of Scotland, the English Channel and Irish Sea.
The scale of cuts proposed by the European Commission for other stocks has been reduced.
Plans to reduce further the number of fishing days at sea were resisted by EU ministers.