First Scottish bee health survey gets under way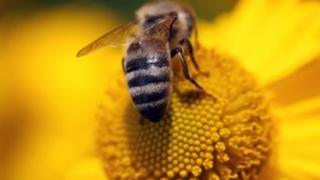 The first survey into the health of Scottish bees has begun.
A number of Scottish beekeepers were invited to take part in inspections and testing nationwide.
The results will be used to inform future decisions relating to bee health and treatment of diseases, pests and emerging threats.
The work is being carried out by Science and Advice for Scottish Agriculture (SASA) and results are due to be published next year.
Environment Minister Paul Wheelhouse said: "Bees have a vital role to play in our ecosystem - not just because they produce honey and other products but because of their valuable contribution to the pollination of many crops and wild plants.
"Bees can also be an early warning system for other problems which may be developing in our environment.
"That's why it's important that we monitor bee health and ensure our bees stay healthy, particularly as they are susceptible to a wide variety of threats, including pests and diseases."
About 25 commercial bee farmers are members of the Bee Farmers Association in Scotland, while hundreds more people keep bees as a hobby.
Phil McAnespie, president of the Scottish Beekeepers' Association, said: "The recent countrywide inspections and bee health survey are another evidence of the commitment not only of the Scottish government, but beekeepers in the health of bee colonies up and down our land.
"This collaboration bodes well not only for the future of the honeybee but the whole ecosystem of our country."