Christmas flooding threat eases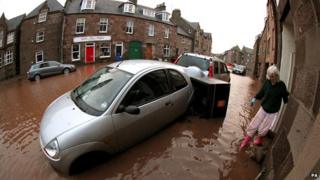 Heavy rain has now eased in the north east of Scotland, although many Stonehaven residents are spending Christmas in temporary accommodation.
Residents were evacuated after the Aberdeenshire town was hit by flooding on Sunday when the River Carron burst its banks.
Members of the public donated gifts for those who have lost their homes.
The environment agency Sepa had 12 flood warnings in place but they all have now been lifted.
However, Sepa has issued flood alerts for Tayside and the Borders. This warns the public to be prepared for potential flooding, although no immediate action is needed.
Northern Constabulary said a landslide has closed the A890 Stromeferry bypass, in both directions, and it was likely to remain closed for three or four days.
Another band of rain is expected to sweep over Scotland on Boxing day evening, and forecasters said any rain on ground which is already saturated could be damaging.
'Overwhelming response'
Sepa's head of hydrology, Richard Brown, said: "There's a bit of a window and people should hopefully be assured over the next couple of days.
"Down the east coast of Scotland things should improve, although obviously there's still a lot of standing water lying around."
The worst of Scotland's flooding problems have been in Stonehaven, where two days of heavy rain preceded a deluge overnight into Sunday.
Michael Innes, chair of the local community council, said: "A big thank you to all who donated at Stonehaven Town Hall on Christmas Eve, to help the flooding victims in our town. The response was fantastic and overwhelming."
He said the town hall would be open from 11:00 on Boxing Day, to allow flood-hit residents to pick up any items they need.
It has also been announced that Stonehaven's annual fireball event will go ahead as normal on 31 December, with all profits being donated to flood-hit residents.
The decision to proceed with the event was taken on Monday after members of the town's Fireballs Association spoke to affected residents.
Willie Munro, the area manager for Aberdeenshire Council in Kincardine and Mearns, said: "Our priority for the next few weeks is to help the community to get back on its feet and to make sure that the message is clear to everyone - Stonehaven is open for business."