Police Scotland: New service chiefs named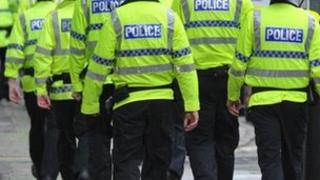 The Scottish Police Authority (SPA) has named six assistant chief constables for the new single police force which will be formed in Scotland next year.
The posts include local policing roles for the east, north and west of Scotland.
The other three roles cover serious crime and public protection, operational support and crime, serious organised crime and counter terrorism.
All will be based at Police Scotland's headquarters at Tulliallan Castle.
The country's eight police forces are to be merged into a single Scottish service at the start of April 2013.
The Scottish government said the new service would have a much slimmer command structure and save £1.4bn over 15 years.
There are currently eight chief constables, nine deputy chief constables (DCCs) and 13 assistant chief constables (ACCs), costing about £4.8m a year.
The new service will have one chief constable, four DCCs and six ACCs - costing less than £2m a year.
The ACCs are due to take up their roles soon and will earn between £90,726 and £105,849 a year, subject to experience.
Among those appointed ACCs are acting Central Scotland Chief Constable Derek Penman, who will cover local policing for the north area, and Strathclyde Assistant Chief Constable Bernie Higgins, who will take on the operational support role.
SPA chairman Vic Emery said: "Our focus as an authority is to ensure that the new police service is ready operationally, legally and financially for day one.
"Appointing a command team to provide the chief constable with the support he needs has been a top priority.
"The new team is taking shape, and the appointment of the assistant chief constables marks another big step forward."
He added: "Each of them will play a major role in working with us to ensure the people of Scotland continue to get the best possible police service within the resources available."
The recently-appointed head of the new national police force, Stephen House, said the six assistant chief constables would play "critical roles in the future of policing in Scotland".
He added: "The team will now drive forward local policing, deliver operationally on organised crime, major incidents, counter terrorism, public protection and operational support.
"They will work closely with the deputy chief constables to shape the best possible service for communities to keep people safe."