Scotland floods: Clean-up continues in Stonehaven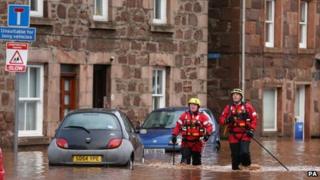 A clear-up is continuing in Stonehaven, where dozens of homes were evacuated on Sunday because of flooding.
About 40 residents were moved from their homes in the Aberdeenshire town after the River Carron burst its banks and water rose to above waist-height.
Concerns have been raised about the health risks from raw sewage, which is being cleared from the town centre.
More than 20 flood warnings are still in place across Scotland, mainly in Perthshire, Angus and Aberdeenshire.
The Met Office said the wettest place in the UK since the heavy rainfall began on 19 December, to 06:00 on Monday, has been Tyndrum in Perthshire, with 155mm (6.1in) of rain.
Some other areas have already also exceeded their full-month December average, including Dyce and Craibstone in the north east of Scotland.
Scottish Environment Minister Paul Wheelhouse visited Stonehaven and Brechin on Monday to see the damage caused by the floods.
He said: "At what is a particularly difficult time of year to face such circumstances, I was reassured by authorities in Stonehaven that everyone who was forced from their homes over the weekend have now either gone to stay with relatives or been temporarily rehomed.
"I was hugely impressed with the community spirit that was abundant."
David Fleming, a member of Stonehaven Community Council, said action to improve flood defences must be accelerated.
He told BBC Radio Scotland's Good Morning Scotland programme: "Quite a lot of work was done since 2009 but nature is always there to bite you back and we need to do more.
"There are some plans but they need to be brought forwards from being just plans to get some action on the ground and that's now a huge priority for this part of the world."
Head of hydrology for the Scottish Environment Protection Agency Richard Brown said more rain was forecast but problems should ease.
He said: "The rivers have had a good chance to drain down overnight but we are expecting further rain later on, spreading up from the south - we anticipate that will have some impact on river flows and levels but we don't anticipate them going back to the sort of levels we saw yesterday.
"It should be relatively lighter rain and less persistent, but to be clear we do still have a good number of flood warnings and alerts in force."
Grampian Police said there was still problems with localised flooding, closing stretches of some roads and leaving others passable with care, but officers stressed that the water levels were subsiding.
In Brechin, residents in the River Street area were placed on alert as the waters of the River South Esk rose on Sunday, but later receded.
Rail and ferry services were also disrupted because of the conditions. A landslip near Cairnrobin affected services between Dundee and Aberdeen but these were returning to normal on Monday morning.
Serco Northlink Ferries services between the Northern Isles and Aberdeen also faced delays because of high winds.
In Stonehaven, emergency services will be issuing health advice because of presence of raw sewage in the town centre.
Locals described how water poured into the main streets from the fields above the town in the early hours of Sunday.
Up to 100 homes were searched by the emergency services and about 40 were vacated.
Residents were taken to a rest centre at Mackie Academy and have since secured temporary accommodation with family or friends.
Those affected by the floods are being urged to visit the town hall for help.
Gifts, food and clothes have been donated and are available to people who have been forced from their homes.
The organisers of the Stonehaven Fireballs ceremony - an annual Hogmanay tradition - said they would let residents decide whether it should go ahead.
After talks on Monday they have said they want it to.
The procession takes place along a street which was one of the roads flooded.
The enhanced content on this page requires Javascript and Flash Player 9
Map Key
Land
Cloud
Lakes, Rivers & Sea
Fog
Light
Heavy
Frost
Light
Heavy
Pressure Fronts
Cold
Warm
Occluded
Rain
Light
Heavy
Extreme
Snow
Light
Heavy
Temperature tab only
Temperature (°C)
More details from BBC Weather
To access more information, from your mobile, visit the BBC Weather and BBC Travel News sites.