Councils reject EIS claims over pupil violence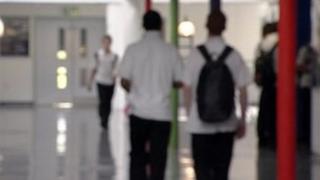 Scottish councils have rejected claims they fail to give school staff enough protection against violent pupils.
The EIS teaching union said schools do not always carry out effective risk assessments or offer adequate support.
It said this contributed to the £1.35m the union has won in compensation awards for its members over the past year.
Cosla, the umbrella body for local authorities, said it took staff and pupil welfare extremely seriously.
The settlements - which totalled £1,352,749 - contained a number of claims brought after assaults on teachers by pupils.
In one instance, a teacher was subjected to various violent incidents involving a child with special needs.
The union said the employer had failed to carry out a risk assessment of the pupil, despite repeated requests, and the member was awarded £81,000.
In another case, a staff member was assaulted and suffered injuries to her back and arm while trying to restrain a pupil, and was given £2,500.
The majority of claims related to accidents on school premises, such as falls.
Larry Flanagan, general secretary of the EIS, said, "Every year we hope that the number of workplace injuries, and therefore the number of compensation cases, will fall.
"Sadly, the evidence from 2012 is that educational employers still have a great deal of work to do to improve the safety of our schools, colleges and universities."
Mr Flanagan also condemned changes to the Criminal Injuries Compensation Scheme, which were introduced last month.
Following the changes, payments will now be focused on the most seriously injured victims of violent crime. People with relatively minor injuries, who would have been eligible under the previous scheme, will no longer receive a payment.
'Callous disregard'
"The right to compensation for these violence injuries sustained in the workplace have now been taken away from many teachers," Mr Flanagan said.
"These changes display a callous disregard for the right of teachers, and other frontline public sector workers, not to be assaulted in their workplace.
"It is important that victims of violent crime are given financial redress to help them get back to their feet, particularly if they are unable to return to work."
Cosla's education spokesperson, Cllr Douglas Chapman, said councils placed the highest priority on the health and safety of staff and pupils.
"Schools are busy places, with often hundreds of staff and pupils present at any one time," he said.
"Accidents can happen but the suggestion that authorities do not take all proper precautions for staff and pupils is preposterous. When accidents do occur all authorities have policies in place to deal with situations that can arise."
A Scottish government spokesman said: "Work-related injuries and any compensation payments, like all heath and safety at work issues, are a matter between the employer and employee.
"However, we expect councils to take appropriate action at a local level to minimise the risk to staff through their own local health and safety procedures."