Why are churches busier at Christmas?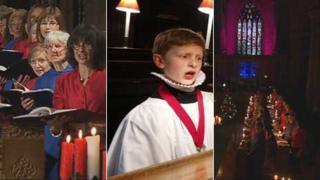 In the run-up to Christmas, Scotland's churches have one of their busiest times of year, with school carol concerts, nativities, Watchnight services and Christmas Day itself. Some people go to church at Christmas who do not attend at other times. Why?
We often hear predictions of the decline of organised religion but what about the full pews at this time of year. What does that mean?
"There's nowhere to sit or stand, the choir loft's full, it's out to the back," says Father Joe Mills, the parish priest at St Mary's Roman Catholic church in Duntocher, near Clydebank.
Although this church is well attended throughout the year, at Christmas the numbers can double or maybe even treble from a normal weekend congregation.
"Suddenly the church is the way it actually could be," adds Father Mills.
"It could be mobbed like this every Sunday."
Human nature
But Father Mills says he welcomes the extra people, even if he has not seen them for a year - or ever.
After all, he says, they could have gone to a non-church Christmas event such as the carnival or a show.
So what draws them in?
He thinks it is something to do with "the emotion involved in it".
"Human nature being what it is, the priest will think, 'gosh I feel like telling them all off'," continues Father Mills.
"'Where have you all been since last Christmas?', might be the question you would ask.
"That would be death to do that nowadays, because it's not where people are culturally - they're happy to be back.
"A big number of them will be promising themselves that they'll be back later but by the time it gets round to that other things are in their minds."
He adds: "Last year, I remember joking about it and saying to them this is marvellous because now we'll have this church full every Sunday and you actually get a big laugh at that because everyone knows where it's at."
But there is also a very material side to Christmas.
In the centre of Glasgow it is a gloomy late afternoon with rain bouncing off the pavements, but the lights from the shops are bright.
Even if they do not usually go, does church figure in people's festive plans?
"Normally I don't go," says one woman, clutching her shopping bags.
"But we're thinking of doing it this year on Christmas Eve - just a nice, festive thing to do.
"I think in these times everyone should be a bit more charitable, go to church and remember what it's all about really.
"I think in years-gone-by everyone's gone to the pubs and bars and now it's just like 'let's do something different'."
Purely cultural
One regular churchgoer says the main thing she notices about Christmas is that it is so busy, you have to go earlier to get a seat.
While another woman, hurrying between shops, beneath an umbrella, says hers is not a religious family and, for them: "Christmas Day is more about the Queen's Speech and stuff."
There are, of course, many other Christmas traditions - the food, the tree, decorations, family gatherings - and some argue that full pews at Christmas-time should be seen as part of that - a purely cultural thing.
"I saw an interview recently with the singer, Neil Diamond, who isn't actually Christian, he's Jewish," says Alistair McBay, who is spokesman for the National Secular Society in Scotland.
"But the interesting thing about his interview was that he said he wasn't religious, but he was Jewish and he was quite specific about not following the rules of his religion but there were certain things he would always do, one example of which was to have Passover dinner with his family.
"I think that's probably a cultural thing with people in the UK who see singing carols as much part of the Christmas thing as mince pies and Christmas trees."
But others see it rather differently.
The journalist, Graham Spiers, agrees that there is "some sense of cultural belonging" from a familiar story, but he also points to "a sense of wonder in all of us, even if we don't believe".
The group of people attending a small service at Govan Old Church (Church of Scotland) in Glasgow are regulars.
Attendance in the wider parish of which this church is part will go up over the Christmas period, especially for services like the children's nativity, where there can be standing room only.
The minister, the Reverend Dr Moyna McGlynn, says she thinks it is a reflection of a spectrum of belief, rather than simply believers and non-believers and that people can have a real relationship with their local church, even if they do not attend.
"Of course, you're human," she continues.
"It flicks through your mind that people come and go and in some ways you wish it could be otherwise because of the loss of that framework of discussion around faith, but I still think it's a matter of some rejoicing that people actually still believe and still want that touchstone, they want to come back, even if it's only temporary."